Fizzball
A fun breakout-style adventure for the whole family! in addicting Fizzball Game
System Requirements
OS: Windows 2000/XP/VISTA
Memory: 128 MB
CPU: P400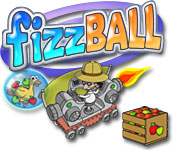 Fizzball Game Description
Why has everyone fled the islands? Who will feed the animals and find out what scared the people away? Professor Fizzwizzle, of course! Bounce bubbles, rescue hungry animals, and solve a mystery through more than 180 levels of thrilling brick-busting action! Collect coins to help buy food for the animals while you compete for high scores and unlock dozens of trophies! There's even a spectacular kids' mode with fun animal quizzes! Download FizzBall now, and get playing!
Fizzball full version features include:
Unique Break-Out Style Gameplay!
More Than 60 Adorable Animals To Rescue!
Over 180 Levels Of Mayhem!
Special Kids' Mode With Fun Animal Quizzes!
Fizzball Game Customer Reviews
Fizzball is wonderfully cute and extremely playable. If there is only one Break Out game to own, it's this. Don't be put off by the art style, this game works for players aged from 5 to 85. Buy it for yourself AND your kids! The premiss is...

- by Bob
This is just another Breakout game but with a difference,the object of the game is to bounce the ball around collecting all the animal's,and eating/collecting the apples,the more you get the bigger the ball get's and the easier the game become's.There's even a kid side to the game which is much simpler version for them although to be honest the normal game is just as much fun for them and as easy.This is a must to download and buy!

- by big_girl06
Loved this game. Hate the little UFO guy...nails me nearly every time. Grrrr. Definite buy.

- by sunteanm
Related Games
If you like Fizzball game, you may also like...