Jane's Hotel
Make Jane's dream come true with her own hotel! in addicting Jane's Hotel Game
System Requirements
OS: Windows 2000/XP/Vista
Memory: 128 MB
CPU: P3 700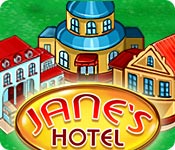 Jane's Hotel Game Description
You'll start with a small two star hotel at the outskirts of Jane's native town. Help your guests quickly and you'll earn money and an excellent reputation! Use your earnings to upgrade your hotel to try and turn it into a stunning 5 star masterpiece that can win the Best Hotel Of The Town contest! There are 40 challenging levels that will keep you hopping from one guest's request to another! Thank goodness for the Maid who is always there to help! Make a dream come true today with Jane's Hotel!
Jane's Hotel full version features include:
Upgrade Your Hotel To A 5 Star Rating!
Choose Your Decor!
40 Challenging Levels!
Keep Your Patrons Happy!
Jane's Hotel Game Customer Reviews
This game was great the music and graphics were good it gets very hard at the end becuse the hotel is so big. The only realy bad thing i think is the maid as there should be one for each job over than that the game was good and intresting. by the way what do peaple mean when thay say that the music's on this game is "cheasy" i don't think it is but i liked it.

- by kirkbutler16
Actually one of the first TM games I actually played to completion. I really liked it, and it was a good way to pass time. Some aspects of the gameplay got a bit annoying, (but it's been a while so I can't really remember - I think the maid was the source of most of my frustration). Not enough to say I disliked it though.

- by a__f
This is a great game to introduce someone to time management (casual) games.

- by Nims
Related Games
If you like Jane's Hotel game, you may also like...