Luxor: 5th Passage
Go on a marble-shooting adventure! in addicting Luxor: 5th Passage Game
System Requirements
OS: Windows XP/Vista
CPU: 1.6 GHz
RAM: 256 MB
DirectX: 9.0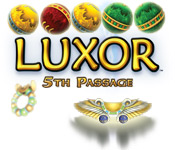 Luxor: 5th Passage Game Description
Get ready to wield your winged-scarab shooter in Luxor: 5th Passage, an exciting and fantastic Marble Popper game! Fire colored balls into the advancing chain of colored spheres to eliminate them before they destroy the pyramids. Earn incredible achievements as you collect falling treasures and eliminate the incoming marbles. Use awesome power-ups to blast your way through every level and save Egypt!
Luxor: 5th Passage full version features include:
Fast-paced gameplay
Exciting Adventure
Blow up the spheres!
Luxor: 5th Passage Game Customer Reviews
I don't usually ever play these games, but based on the reviews I read I gave it a try. What a surprise! I enjoyed it! I've got a coupon I have to use by the end of November and I think I'll use it on this. I only played the easy level, but I may use this game as a "trainer" to get used to the more difficult levels. If you haven't tried one of these games before, or if you think you don't like them, give this one a try and you might be as pleasantly surprised as I was.

- by mgpaquin
Fantastic. As always it's great to see the franchise is still going strong. I was wondering when a new one would be released. 9 out of 10 I never give 10, lol. I didn't have to call in sick, but it did take me away from my usual game play for example, Call of Duty Black Ops, Medal of Honour, Dragonage Origins, Mafia II and Fallout 3 and New Vegas.

I usually only play arcade games as a short respite from the big guns, but this game has totally transfixed me. I remember discovering the first Luxor several years ago and have purchased every one since and have never been disappointed. Each successive release has been even better than its predecessor. Rock on Luxor 5th Passage.

- by Whiterabbit01
If you were looking for an evolution to the Luxor formula, 5th Passage isnt it. Instead, its a culmination of everything that made the previous four games great, with a few new additions to keep things interesting. Theres a huge number of new stages to play through, and the Blast Mode ensures youll always have something to do, even once the Adventure Mode is finished. It may not do a whole lot new, but when a game is this good, thats not necessarily a bad thing.

- by Gamezebo
Related Games
If you like Luxor: 5th Passage game, you may also like...