Mah-Jomino
Blend Mahjong & Dominoes into a unique two-sided mahjong game! in addicting Mah-Jomino Game
System Requirements
OS: Windows 2000/XP/VISTA
Memory: 128 MB
CPU: P350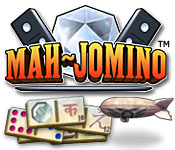 Mah-Jomino Game Description
Think you know all there is to know about Mahjong? Think Again! Mah-Jomino blends the challenge of Mahjong & Dominoes into a unique two-sided mahjong game. Play to uncover the secret whereabouts of twelve ancient artifacts that could prove the existence of the lost city of Atlantis! There are 4 tricky and exciting game modes coupled with over 250 boards to master, so what are you waiting for? Experience the truly exciting world of Mah-Jomino today!
Mah-Jomino full version features include:
A Fresh New Twist On Mahjong!
4 Tricky And Exciting Game Modes
Over 250 Boards To Master
Travel The World In Search Of 12 Artifacts!
Mah-Jomino Game Customer Reviews
This is a great game for people who enjoy Mahjong variants. The gameplay is simple, matching Mahjong pieces so long as they're open on oneside. What is added to the formula however, is that the pieces are double sided like a domino, oftentimes with different symbols on each side.

You travel across Asia and then later Europe solving various puzzles and following a simple but still amusing story of Helen, the daughter of an archeologist who has left it to his heir to prove that Atlantis did really exist by find the scattered fragments of 12 artifacts.

There are around 60 levels in the game story mode, however there are also an incredible amount of freemode levels to test your skill and pass the time if you complete the story mode. These come in a couple of different modes to add some spice to the recipe. Overall a fun Mahjong flavored romp.

- by downonthesystem
Related Games
If you like Mah-Jomino game, you may also like...