Mr. Jones' Graveyard Shift
Help Mr. Jones build a Graveyard Paradise fit for his Queen! in addicting Mr. Jones' Graveyard Shift Game
System Requirements
OS: Windows XP, Windows Vista
Memory: 512 MB
DirectX: 9
CPU: P4 2 GHz
Video: Radeon 7000, geForceFX 5000 or better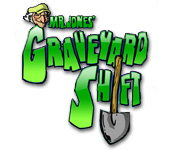 Mr. Jones' Graveyard Shift Game Description
Just when he thought he would retire, Mr. Jones is getting back into business... the Cemetery biz! He's trying to win back the love of his life and taking one last shot at making it big... even if it means working the graveyard shift! Start with a shovel and some old grave markers and build it into a marble-clad festival of crypts. Expand and decorate greenways, and erect statues and monuments for the filthy rich. The rewards are to die for!
Mr. Jones' Graveyard Shift full version features include:
Build Your Cemetery Empire!
Battle Ghouls And Zombies!
Collect Magic Lithode Crystals!
Prove It's Never Too Late To Have It All!
Mr. Jones' Graveyard Shift Game Customer Reviews
To me it was good because the second time I played I just decided to make a beautiful graveyard instead of worry about time pressures and it lets you do that. Once you get into the very rich graves the unlocked items are very cool. Wish I could show the snapshots of my graveyard. (My second one) . My daughter loves watching me and telling me where to put all the decorations and statues. If I had a complaint I just wish it was longer.

- by Condar
This game is hilarious and cute. Plus its fun to see a new take on the standard tycoon type games. We have all managed restaurants, hotels, beaches, farms, etc...however this is the first time Ive played a graveyard. Loved it and bought it.

- by mseljan
Every thing ran smoothly and the objective of the game was quite funny. Over all it was exellent. I would recemend it to anyone who likes horror, simulation or/and a fun time. Five stars

- by appleabs
Related Games
If you like Mr. Jones' Graveyard Shift game, you may also like...