My Farm Life
Help Lisa win the Show of the Year and the Farmer of the Year awards! in addicting My Farm Life Game
System Requirements
OS: Windows XP/Vista/8
CPU: 1.0 GHz
RAM: 512 MB
DirectX: 9.0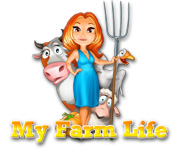 My Farm Life Game Description
One minute Lisa is signing a contract to be the star of a new show, and the next she's knee-deep in chores as she starts taping the first episode of My Farm Life! Plant and harvest crops, milk cows and shear sheep, and purchase equipment to produce the goods Lisa's customers want, all while smiling for the cameras. With the help of a local merchant and three super-powered assistants, Lisa should have no trouble meeting her goals in this fun Time Management game!
My Farm Life full version features include:
Fast-paced gameplay
Exciting action
35 achievements
Lasso-the-animals mini-game
Become Farmer of the Year!
My Farm Life Game Customer Reviews
Caution: This is game is highly addictive! Which is a good thing of course!
Like the previous reviewer said this game is a lot of Ranch Rush. The gameplay itself is not very original but that's not necessarily a bad thing. You have several crops to plant, animals to feed and different kinds of machines that produce yogurt, chocolate etc. and require a combination of produce to work.
There are 50 levels to beat in casual mode and 50 in expert mode (which unlocks after you play a few levels in casual). I found both casual mode and expert to be pretty challenging, but the 'helper' function makes it possible to beat some of the most difficult levels. I'm not sure how it's going to be near the end, as I haven't finished the game yet, but I sure hope a walkthrough appears at some point.
The storyline has some original elements, but for the most part you can just skip the (very short) parts between the levels and not really miss much. The only annoying thing I found about this game is the music, even though the sounds are quite helpful as notifications, but I usually play on mute anyway, so it didn't bother me for long.
So 5 stars from me as well for a well made game!

- by Indie
Finished! This one is much more exciting for me than Ranch Rush. In both games we have crops, animals, machines and a lot of orders. But this is not all! You're allowed to cheat a little with your purchasing from night trader, you'll be given with 3 helpers to help you (not too smart but helpful) and attacked by night thieves. Plus you'll get a simple lasso mini-game. It was quite challenging sometimes to cope with roaming animals, but helpers do the job, especially a 3rd one.
For those who enjoy farm management games.

- by Michelle Smith
Excellent game! When you first begin, the game is a knockoff of Ranch Rush, but as you go on (and believe me, you will ... this is one addicting game), more and more differences come out. Cute story, where your character is basically suckered into a movie role playing a farmer. You run around tending the crops, making some special products (popcorn, yogurt, salads, etc) and tend to various animals (cows, geese, sheep) but there are some additional things that come into play such as nearby farm hands that will sneak in during the night hours and try to steal your crops, or the fact that your animals sleep at night and can't be harvested from. You also have ranch hands that you can earn and hire but each one only does specific tasks. When you first start using ranch hands, they tend to be in your way but soon enough they will become an integral part of you beating the level. Like Ranch Rush, you can prepare products in advance for the next day. However, unlike RR, you won't be able to see what the next's days orders will be. Graphics are cute, the game's humor is enjoyable. The only thing (and it's small) that bugged me at all is that sometimes if you pick up one too many items and therefore can't unload where you think you can, it can throw off the whole chain of queued actions. This only happened a few times in the 2 hours I played. Very addicting game. Also features a cute and unusual lasso the animals mini game that was kinda fun too. Great game, very much worth trying. Hope you have a few hours free, you'll need 'em!

- by Diskette66
Related Games
If you like My Farm Life game, you may also like...