Shop-N-Spree: Family Fortune
Keep your stores afloat! in addicting Shop-N-Spree: Family Fortune Game
System Requirements
OS: Windows XP/Windows Vista/Windows 7
CPU: 1.0 GHz
RAM: 512 MB
DirectX: 9.0
Hard Drive: 111 MB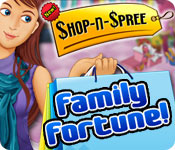 Shop-N-Spree: Family Fortune Game Description
Keep your stores afloat in Shop-N-Spree Family Fortune! Survive the economic crisis and keep your customers content in this incredible Time Management game. Find the items on your clientele's list and make sure they walk out completely satisfied. Set the perfect example for your employees to keep your brand new stores profitable.
Shop-N-Spree: Family Fortune full version features include:
Unique gameplay
Fast-paced action
Keep your stores afloat!
Relive the excitement of the original Shop-N-Spree!!
Shop-N-Spree: Family Fortune Game Customer Reviews
I love this game as I did the first one. The game play was true to the first one, which I did not think needed perfecting. However, they made a few updates and the sequel is perfect! They added many options such as giving the player the choice as to which department to open and the order you want to open them. This also continues throughout playing the game-----every level the player selecting where they are going to play, as well as the choice as to when to play the mini-games and which one to play in addition to the regular one that happens before the store opens.)

The original type of customers stayed the same along with a new one and added points for color matching the customers to the item-Example--Red customer should be given a red lamp(instead of a blue one- this will give you extra points.)

I enjoyed the original game and played it for a long time. I also purchased this one and can not wait to get back to it now. Both the original and the sequel offer plenty of replay value, making it a really good deal for $6.99!!

- by cspmbs2
I played the demo hour and liked the game. You can play the relaxed mode which is nice if you don't want the tension of a TM game. I didn't find the objects hard to find at all. There were just some that I didn't know what they were, but there are plenty of hints available for that. A buy for me.

- by exdir
I loved the first Shop-N-Spree. It is one of my most played games, I probably re-play it every few months. I find it a lot more relaxing than most HOG's. The gameplay changes every time so it still remains challenging. With the timer it does feel a little like a TM game, but I consider it more of a hidden object game. This new version adds a few new features, such as new discount tags and building options. It is a buy for me.

- by adolia
Related Games
If you like Shop-N-Spree: Family Fortune game, you may also like...