Stoneloops! of Jurassica
Rule the jungle with your stone blower. in addicting Stoneloops! of Jurassica Game
System Requirements
OS: Windows 2000/XP/Vista
CPU: 800 Mhz
RAM: 128 MB
DirectX: 6.0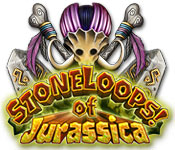 Stoneloops! of Jurassica Game Description
Experience a dinosaur's roar, grinding stones, and thunderous cheer when you enter Jurassica. Only a brave explorer dare travel the five colorful realms of Jurassica. Meander a wild jungle through an endless glacier, and slingshot your way to the edge of a blazing volcano. Own five houses and collect trophies in this rumbling puzzle-arcade game. Stoneloops of Jurassica is anything but your typical marble-popping game!
Stoneloops! of Jurassica full version features include:
Unique Pull&Push mechanic.
Smashtastic power-ups.
Can you conquer Jurassica?
Stoneloops! of Jurassica Game Customer Reviews
This game has so many levels and types of play that you will be with it a long time! It can look deceptively simple, but there are some real strategies for you to develop. I list this in my top 3 games!

- by OldeTurtle
Wow! This game is simply amazing! Even if you don't like marble poppers you should check it out because it has this new pull and shoot mechanics that I've never seen in any similar game before. The gameplay is much more strategic then in Zuma or Luxor because you get to choose marbles directly from the path. Such a small change, and suddenly the rusty old marble popping gets interesting and fun again.

The screenshots don't do the game any justice - it looks much better in motion and with all the sound effects. The only negative thing I have to say about this game is that the sounds are a bit on the aggressive side and can get tiresome after a while, but you can always tweak the volume to your liking and keep having lots of fun!

- by mactombie
StoneLoops! of Jurassica couldn't be more overflowing with surprises. (...) You'll soon see it isn't just an amicable and innovative take on the typical marble-popping formula... Rather unexpectedly, you'll also find it a more than worthy match for even more established industry goliaths like Zuma and Luxor...

- by GameZebo
Related Games
If you like Stoneloops! of Jurassica game, you may also like...