Turbo Subs
Hit the kitchen running...with Turbo Subs! in addicting Turbo Subs Game
System Requirements
OS: Windows 2000/XP/Vista/7/8
Memory: 512 MB
DirectX: 8.0 or later
CPU: 800 Mhz
Hard Drive: 273 MB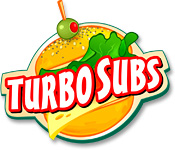 Turbo Subs Game Description
Fans of fast-action time management games are about to embark on a tasty new venture...this time in New York City! Players will help Rebecca and Robert in their continued adventures as they create successful sandwich shops in the most peculiar sites around The Big Apple! It's a tough town, so Rebecca and Robert will both have to work fast to satisfy impatient customers and fend off villainous thieves. With loads of upgrades, secret sauces and more, Turbo Subs is a tasty treat for all!
Turbo Subs full version features include:
60 Levels Of Fast Food Fun!
Sling Subs In 3 Whimsical Locations!
6 Seek-And-Find Mini-Games!
High Speed Turbo Service Mode!
Turbo Subs Game Customer Reviews
Like I said in my review of Turbo Pizza, I consider the Turbo series to be THE best time-management game series, bar-none. It may not break "new" ground but what it does is take the time-management idea and polish it until it shines like a star-cut diamond in a sea of coal. With great graphics, tight controls, fun gameplay and spot-on difficulty, Turbo Subs hit me even better than the first game.

- by Tropico
I enjoyed Turbo Subs, in fact it was the same if not better than its predecessor Turbo Pizza. I had an easier time playing it and a lot more fun with it than Turbo Pizza. The graphics seem a lot better, and the story line is filled out better than the first game. I'd recommend this game to anyone who likes not only restaurant themed games, but also puzzle games.

- by coolmel14@pacbell.net
If you liked Turbo Pizza, you will definitely like this game, it has all the good thing from the first game and some more fun added to it. You can play it on hard from the begginning or warm up with a few easy customers on each level. I found a little bit harder than Turbo Pizza, but that makes the game more interesting and lets face it...ADDICTIVE! Thumbs up all the way for this game...ENJOY IT!

- by LauraTW
Related Games
If you like Turbo Subs game, you may also like...