Zuma Deluxe
Thrilling Aztec-themed puzzle action! in addicting Zuma Deluxe Game
System Requirements
OS: Windows XP/Vista/7/8
CPU: 600 Mhz
RAM: 128 MB
DirectX: 6.0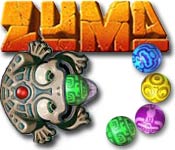 Zuma Deluxe Game Description
This best-selling action puzzler will thrill and delight game fans of all ages. Two gameplay modes with more than 20 temples to explore, all featuring 3D-accelerated graphics and special effects. It all adds up to a breathtaking game experience, requiring reflexes of steel and concentration skills to match. Shoot balls from your stone frog idol to eliminate sets of three colors. Get rid of all the balls before they reach the Golden Skull, or you'll be history.
Zuma Deluxe full version features include:
More than 20 temples to explore.
Enchanting sounds and tribal tunes.
Two gameplay modes.
The Original Trailblazer!
The Action Puzzler That Started It All!
Zuma Deluxe Game Customer Reviews
I've played this game so many times it's not funny. I keep coming back for more punishment (HA!) over and over again. My goal now is not to lose a life throughout the entire game. I have yet to accomplish it, though I came close one time by losing only 1 life. his has to be the most addictive game around. I know it's won many awards since it's release and continues to be one of the best games out there .... ever! If you've never played Zuma Deluxe, you're missing out on a great game experience!

- by DarkChylde
Even though they've come out with Zuma's Revenge, Zuma Deluxe is still my favorite marble popper. Sure, it doesn't have all the bells and whistles that Revenge does, but it's a great, fun, challenging game. Actually, I don't like too much else going on in my marble popper games. It takes all of my concentration to match the marbles!

- by ajuma
I am not a game player, but I just fell in love with this game. It is perfect to fill a few minutes in while waiting for something else, and it won't take over your life.

- by marydawning
an absolutly awesome marble popping game with lots of interesting levels, you start of quite easy and the levels slowly get more and more challenging. Do i recomment this game ... 100% yes

- by Do_U_Know_Me
I don't normally play arcade and/or action games, but I am so happy I gained a chance to try it out, because now I am hooked. This game is highly addictive, loads of fun, and a great way to pass some time. If you like this, you might want to check out Chameleon Gems. They each have something different to offer, but their premise is the same. I am now a convert!

- by Marlie
Related Games
If you like Zuma Deluxe game, you may also like...