7 Wonders
Take a journey and build the Seven Wonders of the Ancient World! in addicting 7 Wonders Game
System Requirements
OS: Windows 2000/XP/Vista
Memory: 128 MB
DirectX: 8.0
Sound: Direct Sound Compatible Sound Card
CPU: P800
Video: Direct3D 8 compatible 16MB Video Card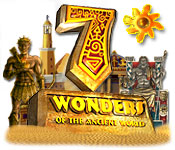 7 Wonders Game Description
Take a journey and build the Seven Wonders of the Ancient World by swapping and matching ancient runes. Begin at the foot of The Great Pyramid of Giza and continue through the Egyptian sands to the mysterious Hanging Gardens of Babylon. You'll travel through the enchanting Mediterranean islands to the glory of ancient Greece as your voyage continues. If your aim is sure and will strong, your eyes will behold what none have ever seen -- all of the Seven Wonders of the World!
7 Wonders full version features include:
Can You Build The 7 Wonders?
Exciting And Unique Game Play!
Spectacular Power-Ups!
Learn Historical Facts!
7 Wonders Game Customer Reviews
I loved this games, the little men running away with the blocks was CUTE lol! You then have to build the 7 buildings. The game may be challenging at some points and frustrating - Just look at the men and have a little giggle to yourself!! Anyways I loved this game - Up in my top 10 games because I loved its gameplay.

- by Mikey2k7
i personally dont care for video games or computer games but once i started playing this game i couldnt stop 7 wonders is fun and it requires you to think. my nephew was the one who started me on it and ive been looking in stores to find it. i like the objective its neat to learn new things and this game teaches you i have to admit i didnt know what the seven wonders of the ancient world were before. the game is colourful and easy to play and i recommend it to people of all ages!

- by jenn
Related Games
If you like 7 Wonders game, you may also like...