Cursed House
Banish the evil spirits! in addicting Cursed House Game
System Requirements
OS: Windows XP/Vista
CPU: 800 Mhz
RAM: 256 MB
DirectX: 8.0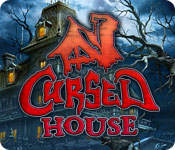 Cursed House Game Description
Banish the evil spirits from the house that is cursed and possessed by ancient evil creatures! Save the Cursed House using your Match 3 skills, and ward off the ghosts! Gather magic power for an ancient amulet, and use its power to restore the house to its former beauty. Match up the different objects and save the day in Curse House!
Cursed House full version features include:
Awesome gameplay
Fantastic action
Banish the evil spirits!
Cursed House Game Customer Reviews
I think I played this for around 15 minutes when I decided to activate it with a game code I had left. I just wish I would have found this earlier in Oct to play it all month in the spirit of Halloween.

I liked pretty much everything about the game. The graphics are nice and that music really sets a cool spooky house ambience. It switches between some old time spook house sounds from some old time horror flicks to some soft ballad type music as a pe curser to something evil about to happen. This is just a lot of fun. Granted it isn't going to be a huge challenge, but just a lot of fun regardless oif your skill level.

- by Cizzarries
I am a big fan from match 3 games and like also this game. I will buy it today with the sale. It will give me many hours of gameplay and entertainment. Happy gaming everyone.

- by Eisteepfirsich
Anyway, I just demo'd the game and played the full hour. After a full hour, I was only on the 3rd dot out of 10 of the progress bar and I can tell you that each dot represents about 5-6 game boards so this is not by any stretch of the imagination a short game.

I wasn't particularly crazy about the runes boards, but I did enjoy the demon boards. The puzzle tiles do clear very fast and slide very smoothly and sometimes you aren't even sure you've made a match, but they are clearing.

The ice blocks offer a bit of different challenge as well - as opposed to some games where the iced block may move but contain the same piece, this isn't so much a locked piece as it is a locked spot within the board. Meaning that what is encased in the ice can change repeatedly as the pieces fall through it.

It seems that the game offers about 6 boards of each style (I was only through about the 4th demon level when demo ended) but I would imagine there may well be another new style of play coming up after clearing this tier. I'm interested to find out and enjoyed this game enough (spooky music and all the whispering - that was sort of creeping me out more than anything) so I will purchase this game today. I would rate this game 4 stars for uniqueness.

- by Diskette66
Related Games
If you like Cursed House game, you may also like...