A Magnetic Adventure
Solve physics-based puzzles! in addicting A Magnetic Adventure Game
System Requirements
OS: Windows XP/Vista/7/8
CPU: 1.6 GHz
RAM: 256 MB
DirectX: 9.0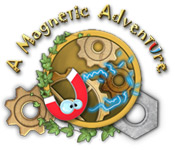 A Magnetic Adventure Game Description
Welcome to an adventure of magnetic proportions! Using a small magnet, solve physics-based puzzles that will stretch your gray matter in ways you never imagined. Once you learn to utilize the magnetic force of your little hero, you'll be able to manipulate a variety of mechanisms, all of which are holding a totem you need in order to protect your world. Open safes, repair clocks and activate teleporters in this innovative Puzzle game, and go on A Magnetic Adventure!
A Magnetic Adventure full version features include:
Clever gameplay
Perplexing puzzles
Use a mighty magnet!
A Magnetic Adventure Game Customer Reviews
Absolutly Ingenius!!! I loved this game!!! It is not a childrens game (unless your child is very, very good at logical thinking) it is more along the lines of 'Mummy Maze' or 'Lemmings' where you need to think a few steps ahead. The game was very well made and graphics are wonderful. I did purchase and it is about 4 hours long. Two big thumbs up from me!!!

- by pal1953
I love puzzle games and this one is really FUN! It has 50 levels and I wish it had 100. The physics of the game are excellent. The puzzles are imaginative. I love the variety. Most of the puzzles are about medium difficulty but there are a few that require a good bit of pondering.

It has a simple little story to give the puzzles purpose. The jazz music is pleasant and I did not find it annoying as I solved the puzzles.

The only negative is that there is no skip for the puzzles. There is a hint button that is available after it charges. I feel that if you ask for a hint that you have already been working on the puzzle for a while and you should not have to wait. The hint button gives you a clue for the next move but does not solve the puzzle for you. The hint clues are not always crystal clear in showing you what exactly to do next. After using a hint, if you want another one you have to wait for it to charge up again.

Over all I enjoyed the game and I hope they create another one that is twice as long.

- by Lizzie
I really enjoyed this little game. it is very deceiving, looks simple but a lot of fun! gothic1, i hope you give it another try, the flashlight puzzle was not too hard and it is the only one. certainly not enough to give the whole game a thumbs down based on one small portion of the whole.

- by puglette404
Related Games
If you like A Magnetic Adventure game, you may also like...