Garden Defense
Use an arsenal of plants, bugs and more to defend your garden! in addicting Garden Defense Game
System Requirements
OS: Windows 2000/XP/Vista/7/8
Memory: 256 MB
DirectX: 8.1 or later
CPU: P4 800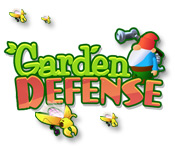 Garden Defense Game Description
Do you have the nerves to withstand an onslaught of ferocious fruit flies, aggressive ants, and slimy slugs? Can you plant a spitting sunflower without losing an eye? Do you have the right screwdriver to attach a rocket launcher to a garden gnome? Then join the battle, and master Garden Defense! Help the Smiths save their flowers by using an arsenal of lawn ornaments, plants, and battle-hardened bugs to defend gardens from hungry pests!
Garden Defense full version features include:
Save The Gardens!
Tons Of Upgradeable Items!
Many Different Defenses To Choose From!
Blast Those Bugs!
Garden Defense Game Customer Reviews
I'm a huge fan of tower defense type games and this one is a gem among an increasingly crowded genre. Garden Defense features a variety of gameplay options Iv'e simply not found in any other defense game. Each map has its own quirks that force you to keep rethinking your strategy once you move up to the Hard difficulty and each category and type of tower or super tower has its own niche to fill. This game has all the innovations that make a game enjoyable to me--varied gameplay, depth of strategy, actual scaling difficulty, meaningful upgrades, and wonderful graphics.

- by wesoloid
I really enjoyed this one and it is great for all skills, as the easy mode was simple enough for a 7 year old to beat it and I have yet to beat the hardest mode. Since there are so many different defense options and the placement of each item is chooses by you the replay of this is almost endless.

- by Lowkie
Totally addictive game! Very replayable. This is one of the best 'Tower Defense' type games out there.

- by unitybelle
Related Games
If you like Garden Defense game, you may also like...