Agatha Christie: Peril at End House
Join Hercule Poirot for another spine tingling seek and find mystery! in addicting Agatha Christie: Peril at End House Game
System Requirements
OS: Windows 2000, Windows XP, Windows Vista
Memory: 128 MB
DirectX: 9.0 or later
CPU: P3 1.0GHz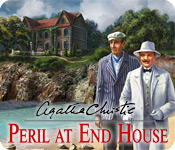 Agatha Christie: Peril at End House Game Description
Fans of Agatha Christie and great seek and find games alike, rejoice! Hercule Poirot is at it again - Mon dieu! - in another seek and find mystery of murderous proportions! Peril at End House celebrates its 75th anniversary with an interactive retelling that remains true to the Agatha Christie classic, while delivering an unforgettable seek and find experience! There has always been an air of evil at End House and it's up to the famous Poirot to unravel the mystery before it's too late!
Agatha Christie: Peril at End House full version features include:
Items To Find, Puzzles To Solve!
13 Unique Characters To Investigate!
25 Different Rooms To Explore!
Celebrate The 75th Anniversary Of This Classic Novel!
Agatha Christie: Peril at End House Game Customer Reviews
A Brilliant game. I especially like the puzzle solving. That was a nice and refreshing twist. The hour on my trial period just flew by. More of the same please!!!!!

- by shan333
Agatha Christie games never disappoint anyone in search of a good quality game. This one is a very good blend of puzzles and the hunt for hidden objects while gathering clues to solve the mystery. You must solve a riddle to identify some of the hidden objects, which I enjoyed. It just gives it an extra little twist. This is a good solid game to exercise your brain and have fun doing it. Of course you know that Poirot will always tie loose ends into a perfect knot to catch the unlucky criminal.

- by Lizzie
I started this game and the grandkids finished it. The reason being some of the hidden items are so tiny they are impossible to find without hints. Younger eyes can find them. It would have been nice to have a magnifying glass option. The puzzlers were fun to do and not too difficult. The story line is easy to follow and the clues help if needed. Hope to see more of these in future. Two thumbs up

- by Jkvetch
Related Games
If you like Agatha Christie: Peril at End House game, you may also like...