Christmasville
Help the creatures of Christmasville find Santa, before it's too late! in addicting Christmasville Game
System Requirements
OS: Windows 2000/XP/Vista
Memory: 64 MB
DirectX: 8.1 or later
CPU: P500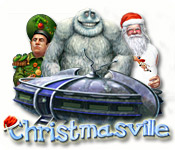 Christmasville Game Description
Santa Claus is missing! You, the great Private Detective Arthur Knight, have been summoned to Christmasville to help! (Well, kidnapped actually, but it just depends on how you look at it!) Once you decide to stay, you'll meet many amazing creatures in Christmasville, like the Abominable Snowman, Reindeer, and even the mysterious Ear. They will help you discover the truth behind Santa's disappearance, before it's too late! It's one hilarious seek and find adventure with Christmasville!
Christmasville full version features include:
A Hilariously Festive Seek And Find!
80 Sparkling Levels!
Intriguing Story!
Tons Of Mini-Games!
Christmasville Game Customer Reviews
It gets you in the mood for Christmas! The graphics are great, and you meet such charming and witty charactars (funny too) be ready to expect "anything".

- by usertaz
Do you love reindeer, the Abominable Snowman (aka Yeti) and elves and most of all SANTA?! Well, if you do, then, this wintry wonderland of adventure is for you! Come along with our good friend Arthur Knight, who's now got his own P.I. business, to hunt Santa down before Christmas goes on without him and the delivery of toys to all the world's good little boys and girls. This Seek and Find game is just the right thing for the Holiday Season and is filled with great characters and really funny dialogue. The creators at NevoSoft have outdone themselves with this one. I have so enjoyed this game that it was no problem for me to use this month's tokens to get it. Both the big and the kids are sure to enjoy this great game!

- by MahMaven
I really enjoyed this game. If you like search and seek then I recommend this game!! This game has good graphics! Tis the season to be jolly!!

- by eve68164
This is an odd and hilarious little game. It's not particularly deep, but it is incredibly funny and an absolute delight. I try to play it every holiday season.

You play as a detective called upon to find Santa, who has gone missing. With the help of a sassy elf, an adorable snow monster, and others, you go deeper into the madness to find Santa and save Christmas.

The graphics may seem a bit dated now, but do not inhibit my enjoyment of the game. The music is fun and funky. The games are enjoyable, but not difficult. This is a great game to amuse, relax, and play just for the fun of it. It will take you to some weird places, but just relax and enjoy the ride! I laughed a lot at this quirky little gem.

It's one of the favorite games in my collection!

- by esmeqt
The graphics in the search games themselves were excellent. The levels are challenging and varied keeping you interested in the game throughout. I found the story line and the story characters jarring given the traditional Christmas feel of the rest of the game. The incorporation of the game's creators into the story line was cute.

- by clnichols
Related Games
If you like Christmasville game, you may also like...