Aztec Bricks
Welcome to the brick-busting world of the Mayans and the Aztecs! in addicting Aztec Bricks Game
System Requirements
OS: Windows 2000/XP/VISTA
Memory: 128 MB
DirectX: 8.1 or later
CPU: P2 500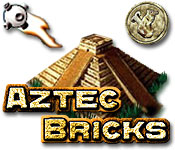 Aztec Bricks Game Description
Welcome to the brick-busting world of the Mayans and the Aztecs! If you're fond of danger and excitement, then this is the breakout for you! Flying skulls, red-hot stones and many other surprises await, including a Big Boss at the end of each level pack! There are more than 110 explosive levels with 30 powerful bonuses to increase your chances of success! Some are helpers and some are traps, so be careful or the curse of these ancient tribes may be upon you!
Aztec Bricks full version features include:
A Dangerous And Exciting Adventure!
More Than 110 Explosive Levels!
Highly Detailed Ancient World!
4 Bosses To Conquer With 30 Bonuses!
Aztec Bricks Game Customer Reviews
Poc-poc-poc... breake the skulls, they will shout; cut the lianas and clear the landscape. This game is ancient magic and you are the wizard aztec master. The graphics are pure art and the gameplay very challenging, the last levels are HARD. Only for breakout lovers.

- by Tzotzololoy
Having always loved breakaway games, I wanted to give this a shot. Aztec Bricks has it all, good graphics, fum, and does the 'brick wall' theme exceedingly well, I keep coming back to it! Expect to discover many new types of tricks and surprises within, and the cute "african" music wont annoy you like some other games do.

- by n000n
I'm not a bricks braker fan; I only have Ricochet Xtreme (and I play it once in a while between other games that I love) but I have to admit that I REALLY liked the demo of Aztec Brick and I'm going to buy it soon. The game is really addictive and better than other games of its type. Congratulations.

- by Reuel
Related Games
If you like Aztec Bricks game, you may also like...