Chicken Invaders 3
Save the Earth from the greatest chicken threat ever! in addicting Chicken Invaders 3 Game
System Requirements
OS: Windows XP/Vista
Memory: 64 MB
DirectX: 7.0 or later
CPU: P2 400
Video: 3D-accelerated graphics card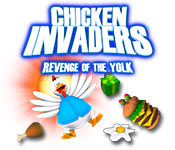 Chicken Invaders 3 Game Description
Chickens. For centuries we have oppressed them, grilling, roasting, stewing, and stuffing them in buns. The time has come for us to pay. Intergalactic chickens are invading Earth, seeking revenge for the oppression of their earthly brethren! It's time for you to fight through 120 waves of chicken invaders for our ancestral right to omelettes. Will you succeed? Will the future of chicken burgers be secure? Or will you end up as part of the menu in a galactic chicken restaurant?
Chicken Invaders 3 full version features include:
Fight Through 120 Waves Of Invading Chickens!
Collect Bonuses And Medals!
Unlock 7 Secrets!
Journey To 12 Galactic Star Systems!
Chicken Invaders 3 Game Customer Reviews
I downloaded Chicken Invaders 3 while searching for games for the Wii. I am 55 and enjoy playing video games, but generally lose interest in the more complicated games. I liked the feature where you can sample a game for 30 minutes before purchase. The "under $10" price was attractive. Parts of it reminded me of the old Space Invaders game.

- by Judith L. Russell
This is an awesome sequal. Better graphics, sound and overall gameplay. The upgrades are so much better and alot more options. The easy level actually makes you work for it this time instead having to wait to get to the level difficulty level. And with all the special unlocks, this is a much better overall experience versus the previous version. Talk about fast and fun. This is by far the best Chicken game out there to date. You gotta get this game as it will keep you playing for hours on end.

- by joemcc8651
I have never liked space shooters ever since I played Galactica... It was really boring.... But then seeing the good ratings I decided to try this game.... It looked like a famous game and I had heard about Chicken Invaders 2 from my friend... So yesterday I just downloaded the game expecting nothing at all... But then I was shocked... I remained addicted to this game for 1 long hour... I never knew when the time passed... This is no classic space shooter... This is different and fun... Try it... You won't regret it.... PS: This is the only game that got a 5 star rating in all fields from me..

- by Simboy
Related Games
If you like Chicken Invaders 3 game, you may also like...