Ballville: The Beginning
Build a city on an unexplored planet! in addicting Ballville: The Beginning Game
System Requirements
OS: Windows XP/Vista
CPU: 1.0 GHz
RAM: 2048 MB
DirectX: 8.0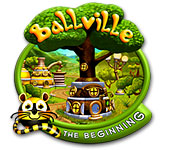 Ballville: The Beginning Game Description
The spaceship of travelling orbees crashed down on an unknown, uncharted planet. Could this magnificent world become a new home for the Orbs? Help the Captain find lost crew members and build a city from scratch in this innovative Match 3 game. Complete levels, solve interactive Hidden Object levels, and play enthralling minigames in Ballville: The Beginning! Join the Orbs in their daring adventures and discover a new, spectacular world!
Ballville: The Beginning full version features include:
Exciting levels
Awesome minigames
Construct a new city!
City-building elements.
Ballville: The Beginning Game Customer Reviews
What a great match 3 game. Great game play adorable characters and just a new and fresh twist to the match 3 genre. I love the fact that each character offers something different and you can choose which one's you want when you play a level and they all help with their unique abilities. Bright colors cheerful atmosphere even the vampires are cute. You can preview the level before you play so you can choose the orbs that will help you the most. All of the little houses and buildings are just adorable. This is so different from any other match 3 I've played before and I bought it not long after I started playing it. It's a great game for kids and even for us big kids. Give it a try it is most definitely worth that. This little game is a definite keeper and it stands alone. Great game I just love it.

- by gmac1007
I suppose some would consider this a game for kids, but this senior citizen was totally charmed by it. I enjoy Match 3 games (and can get totally addicted to the best ones like Cradle of Rome) but too often they become boring and repetitive; not so here. Rather than matching tiles, you are matching little creatures, all of whom have a different "special power" which enables them to trade places with each other, to melt ice blocks, to randomly zap certain squares, etc. Every time you complete a match they squeal, squeak and make assorted other noises which at times had me laughing out loud. There is a different task which needs to be completed with each board, overall you are trying to earn money to build a city for them to inhabit, and the Match 3 gameplay is frequently interspersed with various mini-games including Hidden Object, Arcade-type action, and more. Another feature I really appreciate is the option to play without a timer if you choose. I only bought and started playing this game today, but the several hours I have spent with it so far are enough for me to recommend it to anyone who enjoys Match 3 games and has a silly sense of humor. I am thoroughly enjoying it.

- by BobbiH
i love this game, it is so cute with the little alien characters. you not only play match 3 but you also have to search for the little critters and when you click on them they sound like cats lol. each little alien does different things, you also get special prizes that you can open as you go along. some may think this is a kids game but it is adorable, i didn't want to quit playing. the match 3 screens are different each time and you get to choose which aliens you want to use. it looks like it is a very long game. the graphics are crisp and clear. i also like that it has an option for custom cursor.

i played until the demo ran out and i bought it. i give this game 5 of 5.

- by amj0963
Related Games
If you like Ballville: The Beginning game, you may also like...