Cradle of Rome 2
Become the Emperor of Cradle of Rome 2! in addicting Cradle of Rome 2 Game
System Requirements
OS: Windows XP/Vista
CPU: 1.0 GHz
RAM: 1024 MB
DirectX: 9.0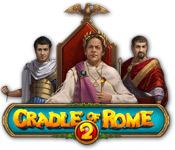 Cradle of Rome 2 Game Description
Welcome back to the city on the seven hills! Rome was one of the most powerful and beautiful capitals of all time. Write your own history of the Roman Empire in the engaging Match 3 game, Cradle of Rome 2. Journey through incredible matching fun and the exhilarating process of building the city. Experience the new world of Rome from the cradle to the glory! Solve challenging minigames and draw blueprints to turn your small settlement into the flourishing empire.
Cradle of Rome 2 full version features include:
Exciting gameplay
Intense action
Become the Emperor!
Play Cradle of Rome
Earn 28 unique Roman trophies
Cradle of Rome 2 Game Customer Reviews
If you loved Cradle of Rome, you'll probably love this sequel. The premise is the same. It's a match-3 game where you collect various resources in order to buy buildings and build up your city. There is a new type of game board included in some levels where you must make a vertical match-3 over blocks of ice in order to break the ice. It's an interesting and challenging addition to the game. The "blueprints" portion of the game isn't exactly my favorite, but it's over quickly and it provides a little break in the gameplay. It just requires that you do a mini-game, like a jigsaw or a swap-the-pieces puzzle, although if you wait a few seconds, you can skip these. The game IS timed, but so far I've found that the timer has been fairly generous.

The graphics are quite nice. The backgrounds of the match-3 game boards are very well done. The music, like in the first game, is very lovely. I really enjoy that there are trophies included in the game, too. Also included are bonus levels, wallpapers and the soundtrack, even though this is not a collector's edition. (I don't use those last two, but some people might like them!) All in all, this is a great game if you love match-3 games!

- by Imberis
Love this game! Something about Match 3 games with the reward of building things appeals to me. Great graphics (love the little guys who run out and build the buildings)no technical issues. The match 3 boards get harder as you progress so you are challenged and engaged through the entire game. Overall a definite keeper with excellent replay value.

- by dejadina
I have a love hate relationship with this game. I love the graphics, music and the beautiful designs..however, the match 3 objects are so very very tiny and at times the colors blend in with the background. Its a fun game like most match 3 but its a short game with only 4 areas and 4 buildings per level..any way, enjoy and relax. Great game, not one I will purchase.

- by lookforit
Related Games
If you like Cradle of Rome 2 game, you may also like...