Brain Challenge
Boost your daily brain activity. in addicting Brain Challenge Game
System Requirements
OS: Windows XP/Vista
CPU: 800 Mhz
RAM: 256 MB
DirectX: 9.0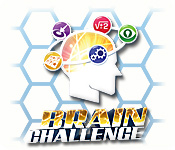 Brain Challenge Game Description
Give your brain a vitamin boost, and take a fun evaluation of your mental capacity. Work with your favorite personal coach to improve your cerebral agility. Delve into 20 distinct games in five categories (Memory, Visual, Logic, Match, and Focus). How do you cope with the day-to-day craze? Find out with the Daily and Stress Management Test. Keep track of your daily progress and evaluate your level of brain activity in Brain Challenge ?
Brain Challenge full version features include:
Visual, memory, logic game
Stress management mode
Manage your mental health
Brain Challenge Game Customer Reviews
Brain Challenge is a nice little game that proports to sharpen your brain over a progressive period of time, and provides fun mini-games to test your abilities in a number of different categories, including memory, focus, logic, math, and visual skills....It would be interesting if someone actually used this game in a study or thesis/dissertation to see if it actually works over a longer period of time, but you will find that it does keep your brain on its toes while providing interactive experiences in the mix.

- by ladyserenity84
I think this is one of the best compilation of "Brain games" out there for the Nintendo DS. I had briefly played Brain age-II on my friend's DS and I think this game has more variety than Brain age. I was impressed with the graphics and the variety of games in this collection (especially in the logic section). Whether you are thinking about your first game in this genre or thinking about expanding to your brain games library, this is a great pick.

- by Shyam Sundar
This is definitely not an easy game. There's plenty to keep you busy on a daily basis. I am very happy with it and highly recommend it to those who enjoy a fun challenge.

- by angel in paradise
Related Games
If you like Brain Challenge game, you may also like...