Azada
Break free from a magical puzzle prison in Azada! in addicting Azada Game
System Requirements
OS: Windows 98/ME/2000/XP/Vista
Memory: 64 MB
CPU: P500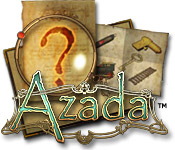 Azada Game Description
Trapped in a haunted room by his great-uncle, the adventurous Titus has asked you to help release him from the magical spell. To do this, you must solve the most mysterious puzzles of Azada. Crack the series of puzzles and fill in the missing pages of the enchanted book to free Titus from his prison. With more than 40 unique puzzles, and 5 master level puzzles, you will need to use strategy, think logically and have a keen eye to succeed. Uncover the secret of Azada today!
Azada full version features include:
Break Free From A Puzzle Prison!
5 Master Level Puzzles!
More Than 40 Unique Puzzles!
Find Hidden Clues To Unlock Levels!
Azada Game Customer Reviews
Azada is a lot of fun for people that like puzzles. The only improvement I can think of would be to make the timer optional. There are many types of puzzles, and though I don't want to skip any, some of them take a lot more time than others and I don't like running out of time and having to repeat levels.

- by magfan
I bought this game a year ago and I keep playing it over and over again as it is a very nice game for replay.

- by lauder
Someone in one of the forums recommended this game and I bought it and am pleased. It's really different in that it's a series of puzzles and if you don't finish in a certain time, you must start over. I would recommend buying this game.

- by drummer1961
Related Games
If you like Azada game, you may also like...