Brain Games: Mahjongg
Prepare yourself for some mahjongg fun! in addicting Brain Games: Mahjongg Game
System Requirements
OS: Windows XP/Vista
CPU: 800 Mhz
RAM: 256 MB
DirectX: 8.1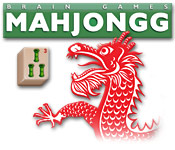 Brain Games: Mahjongg Game Description
Dive into some classic mahjongg fun in Brain Games Mahjongg! Play ten different variations, each with unique gameplay and new fun! Solitiare, Memory, Waterfalls, Four Rivers, and many other forms of mahjongg await. Clear away the tiles and enjoy the ancient Chinese game that some say was created by Confucious himself.
Brain Games: Mahjongg full version features include:
Classic gameplay
Multiple game modes
Dive into some mahjongg fun!
Brain Games: Mahjongg Game Customer Reviews
Wow . . . ! With its cool, hypnotic music, there are lots of awesome versions of the game here - including Solitaire, Nanjing, Waterfalls, Golden Dragon, Collapse, Memory, Four Rivers, & the mind-bending Genius Quest . . . You don't have to be a genius to enjoy all the variations in this game, though . . . !

- by Gojira2006
This is such a great game, very relaxing and fun to play. I played in Genius mode, and it's not very hard, no more than an average online Mahjongg would be. The music is good at first but after about 30 minutes of it, I had to turn the speaker down because it got on my nerves. Once you play through the first round of Genius mode, you play a memory bonus round (match the tiles from memory) and will score according to how quickly you clear the tiles. Once you do that, you will unlock more scenes and better tiles. All in all a nice game word replaying.

- by moonwitch
I played about thirty-four minutes of the demo and had to have it. This is just a straight forward Mah Jongg game with lots of layouts to play, several lovely tile sets and backgrounds to choose from (although most are locked to begin with) and uptempo music to keep you going. I especially liked the music - a bit of African and Middle Eastern influences alternating during the gameplay. You can play either Genius mode or Freeplay - I'm assuming that in Genius, all those tantalizing tile sets and backgrounds will eventually be unlocked as you progress through the levels. All in all, a relaxing and fun outing for Mah Jongg fans.

- by molly539
Related Games
If you like Brain Games: Mahjongg game, you may also like...