Build-a-lot 4: Power Source
Can you 'clean and green' up the neighborhood? in addicting Build-a-lot 4: Power Source Game
System Requirements
OS: Windows XP/Vista
Memory: 256 MB
CPU: P500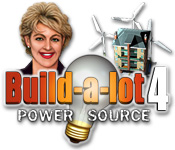 Build-a-lot 4: Power Source Game Description
The power is in your hands! Help friendly towns to grow and glow by building neighborhoods and generating clean energy to make them run. Get your neighborhoods fit and fancy by building tennis courts, swimming pools, boutiques and more. With multiple campaigns to play and a variety of awards to earn, there is plenty to do and lots of fun waiting for you in this electrifying addition to the Build-a-lot series!
Build-a-lot 4: Power Source full version features include:
Help Friendly Towns Generate Clean Energy!
Manage Power To Avoid Blackouts!
Beautify The Neighborhood!
The Power Is In Your Hands!
Build-a-lot 4: Power Source Game Customer Reviews
Great game,it certainly lives to its predecessors...A lot harder than the other three to get expert on even early levels....But well worth the wait for this game, give it a try you will like it..

- by micky7830
I have played it as an evaluation and I loved it. It is very challenging due to the power outages. You must complete the goals and still keep the juice up. You can continue building, buying, selling and such while power is out, but you get no rent. I can't wait to buy it!

- by baronrae
Smooth gaming, just like all BAL games. Fun to play, a tad more challenging that the last three to get expert on all levels. Energy plants add some fun additions. I am just disappointed that they really didn't improve anything with regards to graphics or look-and-feel. Nothing, nada - the game looks just the same as all the other ones.

- by gilowyn
Related Games
If you like Build-a-lot 4: Power Source game, you may also like...