Ice Cream Craze: Tycoon Takeover
Stack and serve your way to success! in addicting Ice Cream Craze: Tycoon Takeover Game
System Requirements
Windows Vista, XP
256 MB RAM, 512 MB Vista
DirectX 9.0 or later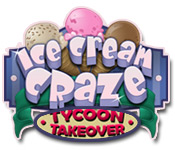 Ice Cream Craze: Tycoon Takeover Game Description
Take on the Ice Cream Craze: Tycoon Takeover time management challenge! Go against the odds and beat the top ice cream maker, BigCo, with Anna! Armed only with an old ice cream truck and the wisdom of her grandma, Anna will try to defy the odds. Guide her through challenges from fickle business owners around town, earning respect, cash, special truck upgrades, and even ice cream stands that make money on their own. Stack and serve your way to success!
Ice Cream Craze: Tycoon Takeover full version features include:
Over 100 levels, with progress determined by your own choices
50 awesome upgrades
A slew of customers with unique tastes and behaviors
Become an Ice Cream Tycoon
Ice Cream Craze: Tycoon Takeover Game Customer Reviews
This game appears to be a sleeper. I have been playing it for the last 4 hours. It is fun, challenging and so much more than I imagined it could be. I wasn't a big fan of the first installment!. The challenges are fun and just that and just that challenging. I would recommend this game to anyone that enjoys TM games. Jump on the bandwagon, and have lots of fun. See how many days it takes you to takedown Big Co!

- by suzyq5294
This game is a fun mixture of time management and tycoon. I have enjoyed playing this game thus far and it provides hours of entertainment. The only drawback I found was that the time management element is too similar to the original Ice Cream Craze.

- by carfixer1957
Related Games
If you like Ice Cream Craze: Tycoon Takeover game, you may also like...