Burger Island 2: The Missing Ingredients
Cook up some fun for Beach Burger's hungry customers! in addicting Burger Island 2: The Missing Ingredients Game
System Requirements
OS: Windows XP/Vista
Memory: 256 MB
DirectX: 7.0 or later
CPU: P800
Video: 32MB Video Card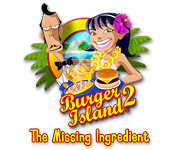 Burger Island 2: The Missing Ingredients Game Description
When ambitious Edie Cole Iverson and her suspicious new burger franchise start stealing Beach Burger's business, Patty Melton and her irritable sidekick Pierre expand their menu, only to find the island's resident recipe guru, the Tiki Guy, has gone missing! The hunt begins as Patty and Pierre attempt to rebuild their business, cook up all new recipes, track down new ingredients, and create the mythical Great Sauce! It's time to cook up some fun with Burger Island 2: The Missing Ingredient!
Burger Island 2: The Missing Ingredients full version features include:
Create Your Own Recipes!
Grill Up Burgers, Nachos, Omelets And More!
Choose Your Own Path!
Power Up The Tiki Torch For Maximum Profit!
Burger Island 2: The Missing Ingredients Game Customer Reviews
I both love and hate this game. Hate to play it, but can't seem to stop!!

- by hydrobeam
I really LOVED burger island. Unfortunately, I wasn't able to finish it because it was so difficult. This one's better because it has three levels of difficulty to choose from. Game play is pretty much the same as the first one. So if you loved Burger Island, I'm sure you'll love this too.

- by iskrew
After long wait for the sequel of Burger Island, I don't think it's as a good as the first one! We've been anticipating this game for months and it's kinda disappointing that the graphics of the ingredients have been sized down and not as large as the first one. What were the beta testers had been doing?? But the game playing is the same like the first one, only that milk shake and the usual fries are replaced with omelette and nachos. It's worth buying i think.. and the added feature is that we can create our own recipe without relying on the missing Tiki guy :) Enjoy playing! And don't expect too much of Burger Island 2! The sound; I thought the previous one has better music than this sequel!

- by athena88
Related Games
If you like Burger Island 2: The Missing Ingredients game, you may also like...