Farm Frenzy
Show Old MacDonald how it's done! in addicting Farm Frenzy Game
System Requirements
OS: Windows 98/ME/2000/XP/Vista
CPU: 1.0 GHz
RAM: 256 MB
DirectX: 8.0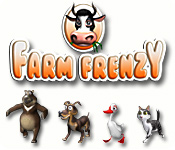 Farm Frenzy Game Description
If you thought life in the big city was crazy, wait until you get a load of the country life in Farm Frenzy! Daily chores have never been more entertaining as you cultivate your fields, feed your animals and gather the items they produce. You can spend the money you earn on upgrading your farm! Offering plenty of finger-clicking action, just enough strategy to keep things interesting and an amusing cast of characters, Farm Frenzy is a game the whole family can enjoy!
Farm Frenzy full version features include:
Fun farm animals to care for!
Great farm products to sell!
Cool buildings to purchase!
Farm Frenzy Game Customer Reviews
This is a really fun game. Cute graphics. Cute animals. Love the bears. The difficulty curve is gradual and just about perfect. There is good replay, as you can try to get all gold medals for the levels, or you can chose different upgrades,etc. My kids like it, too.

- by arcadiarose
I just love this game! The animals are very cute and it is challenging enough, but not too hard that you feel frustrated. In some levels, due to lack of space, you'll have to think twice to decide which improvements to buy and design your strategy. I totally recommend it.

- by helenam
I adore this game! Catch those bears before your cow goes whizzing away into the sunset.But collect the eggs and other produce as well before it goes off. Then squish it all into your storage shed and watch your car take it to the market. Yes, even the bears! Then build up your processing plants to make better produce. Don't forget to keep planting grass for your hungry animals. And while you are doing all this keep bopping to the catchy music together with the animals. I managed to finish the game at about 3 in the morning so that should tell you how addictive it is!

- by angua11
Related Games
If you like Farm Frenzy game, you may also like...