Busy Bea's Halftime Hustle
Fix Blunderton's stadiums! in addicting Busy Bea's Halftime Hustle Game
System Requirements
OS: Windows XP/Windows Vista/Windows 7/8
CPU: 1.2 GHz
RAM: 512 MB
DirectX: 9.0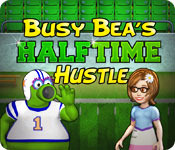 Busy Bea's Halftime Hustle Game Description
Busy Bea has been brought in to fix Blunderton's stadiums! After being named the "Worst sports town of the year," the citizens of Blunderton are in a dire situation. Use Beatrice's talents and get the city out of a sticky mess in this fun and exciting Time Management game! Busy Bea's Halftime Hustle will have you cheering for the home team in no time as you dash through multiple minigames and unlock upgrades.
Busy Bea's Halftime Hustle full version features include:
Help Busy Bea restore Blunderton's pride and foil Mayor McGreety's master plan.
Fun for all skill levels from Rookie to All-Star!
5 unlockable bonus games inside Blunderton's Arcade!
50 challenging levels X 5 difficulties ='s hours and hours of fun!
Busy Bea's Halftime Hustle Game Customer Reviews
I can't tell you how many times I've played and replayed the wonderful time management duo Megaplex Madness and Megaplex Summer Blockbuster from Gold Sun Games. How great is it that the long-awaited semi-sequel to these masterpieces has at last been released!

Of the four-word title of the current offering, the most apt word is "Busy" -- task after task pops up, making it challenging to pass levels even before the end of the hour-long trial period. And that's only on "Normal" difficulty for an extremely experienced TM-er. The greatest impact comes from the "out of order" feature which requires Bea to fly from broken chairs to malfunctioning food stations, wrench in hand, to effect repairs. There are other features that differentiate "Bea" from its older Megaplex siblings. One innovation is the stadium seats, which act as a parking area for hungry fans when the stations they want are busy. Another is the puzzle levels. Altogether, a bright, cheerful, truly "Busy" time management title! My only small complaint, and this may have something to do with my own computer, is that the cursor isn't as rock-solid reliable as in the Megaplex titles. Oh, and the zombies... Can't somebody out there make a PC game without ghosts, vampires or zombies? In "Busy Bea" ?? Really ??

- by MyThreeSons
This is really a cute game I'm really liking it. It's a lot like Megaplex Madness. Your running concession stands serving fries, ice cream, and seating customers and sending them to the restroom and then letting them exit. Bea helps out she can cook, fix things and grab your gold coins that get left behind. It is a busy game but a very fun game. Your able to repair and fix up the stadium as you go and buy more stands and hire more workers. There is of course the daily goal to meet and you can swap your customers as long as they are the same colors and going to and from the same place you get extra points for that. The graphics are really cute and colorful and you can hear the crowd cheering in the background. There is a warning called halftime hustle and any customers you have waiting you can click on the progress circle to speed it up so you can move them on out faster. I haven't played very much just long enough to know that I liked it and bought it. I loved the Megaplex games and this one as well. It's definitely worth a try to see if you like it and you can always go back and replay any level that your not happy with. Give it a try if you liked the Megaplex games you'll like this one as well really cute and lots of fun.

- by gmac1007
Busy Bea's Halftime Hustle is a is fun fast-paced time management with a football stadium building theme. It has the same mechanics as the Megaplex Madness series (same developers). 150 levels in total, and the difficulty can be altered at any time. Busy Bea's Halftime Hustle game has five grades of difficulty, lots of upgrades that change in the different locations and new twists to the gameplay. It doesn't matter whether you're a football fan or not, if you are looking for a challenge and a lengthy time management game with solid, look no further.

Definately worth my money. And if other games come out like this, I will probably be buying them as well!

- by Nina Green
Related Games
If you like Busy Bea's Halftime Hustle game, you may also like...