Wedding Salon
Try your hand at the wedding business! in addicting Wedding Salon Game
System Requirements
OS: Windows XP/Vista
CPU: 1.0 GHz
RAM: 512 MB
DirectX: 7.0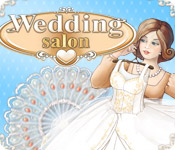 Wedding Salon Game Description
Try your hand at the wedding business! Holly runs a chain of wedding salons, and your job is to help her develop it, while providing top-notch customer service. Once you find the right approach to each customer, your efforts will be rewarded with generous tips. Use the money you earn to hire staff and upgrade equipment in Wedding Salon, a fun Time Management game!
Wedding Salon full version features include:
Fast-paced gameplay
Incredible action
Take over a Wedding Salon!
Wedding Salon Game Customer Reviews
This a great example of a well designed time management game. It starts out easy, and then picks up speed, characters and tasks. When you rate "expert" in a level you get the proverbial star which allows you to decorate a room. Not only do you get to transform the walls, furniture and flooring, but also select a wedding gown, and table settings. So of course I have to do levels over until I get that "expert" rating. Lots of levels, lots of fun.

- by hankysis3
STARTS OUT NICE, THEN GETS HECTIC, LOTS OF FUN. I LOVE THE VARIETY OF CHARACTERS AND EVENTS. AND I LIKE THE MINI GAMES.

- by PRETZEL49
cute and fun! this game really isn't breaking any ground with the wedding theme or style of game play but i am really enjoying it. all the of the previous positive comments pretty much have summed up the good points of this game. the graphics are cute, the game play is fun and you'll go crazy sometimes trying to keep up, it can be a real challenge! the only thing that might be a negative to some people is that it can get really clicky and the pop-up mini-games take priority so they might interfere with actions just like on the sally and craze games. over-all i'd say this game is a pretty good TM game with a definite cute factor that will be appealing to many but not all. happy gaming.

- by mendolyn
Really enjoyed this game and ended up purchasing it. From the reviews, I expected this to be Sally's Salon but in another setting. To me, the feel of the game is completely different. Sure there are some similarities such as moving customers from station to station but the gameplay is unique enough that it feels like an entirely different game. The way that the upgrades work really changes the feel - also, the mini pop ups in this game don't feel like a chore the way it does in some of the Sally games. The mini games in between some levels to earn extra cash were fun too. Another thing that is very different from the Sally games is that you are chaining in this game rather than just serving customers. Also, many of the customers have distinctive quirks and qualities, which brings strategy into the game. Even if you think you have played enough salon games to last you a lifetime, I would give this one a try - it's different enough that you may be pleasantly surprised.

- by Diskette66
Considering I am not a big fan of TM games when I like one it has to be a real winner. For me this was a winner. Great graphics super colors, sweet storyline, very fast paced but not frustrating, lots to do and so hours of fun. A cool TM game that kept me entertained and active with replay value as well. If you are not a fan of TM games you might try this one and change your mind!

- by dejadina
Related Games
If you like Wedding Salon game, you may also like...