Camp Funshine: Carrie the Caregiver 3
Help Carrie wrangle the camp kids. in addicting Camp Funshine: Carrie the Caregiver 3 Game
System Requirements
OS: Windows XP/Vista
CPU: 600 Mhz
RAM: 256 MB
DirectX: 7.0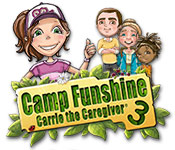 Camp Funshine: Carrie the Caregiver 3 Game Description
Carrie must muster enough sanity once again in this Caregiving sequel. Join our heroine as she trains to become a camp counselor, helping campers learn new activities and skills. Her kids are quite the handful - keep them entertained or they'll cry boredom and leave. Each child has a distinct level of patience, and each can reach a new crisis state in seconds. Will Carrie be able to exhibit her super-Caregiving skills in Camp Funshine Carrie the Caregiver 3? You'll have to find out in this summer-time sequel!
Camp Funshine: Carrie the Caregiver 3 full version features include:
Sequel to the hit series
Special crisis states
Keep Carrie's kids happy
Camp Funshine: Carrie the Caregiver 3 Game Customer Reviews
This is a fun game. If you enjoyed the first two then you will love this one. It is adorable, fubn and unique. There are different age groups which makes it more interesting than the first two. The first one is cuter, the second one is ok, but this one is the funnest

- by gurlzlife
I am a huge fan of the Carrie the caregiver series. This new installment did not let me down. It is fun and exciting and I like how the challenges and activities vary. You are not stuck doing the same basic thing over and over again. I loved it!

- by achalter
I love the Carrie the Caregiver series. They are always so much fun and sooo interesting. This one is really cool! We get to help kids of different ages do fun things at camp! i highly recommend it!

- by courtney_blackwell1357911
Related Games
If you like Camp Funshine: Carrie the Caregiver 3 game, you may also like...