Airport Mania 2: Wild Trips
Your travel destination for fun! in addicting Airport Mania 2: Wild Trips Game
System Requirements
OS: Windows XP/Vista
CPU: 1.0 GHz
RAM: 256 MB
DirectX: 9.0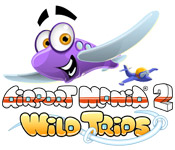 Airport Mania 2: Wild Trips Game Description
Return to the skies and visit incredible destinations in Airport Mania 2 - Wild Trips, a fun time management game! With whimsical music and visuals made to make you smile you're sure to enjoy the unique locations around the globe. Travel to the North Pole where you'll help Santa deliver presents, Monsterville where every day is Halloween, Tiki Taka Island where the runways are right on the water, and even the Moon!
Airport Mania 2: Wild Trips full version features include:
99 levels and over 50 awards
New background mini-games add to the challenge
Visit zany locations around the world and out of it!
Discover 19 aircraft including planes, military jets, and spaceships!
Airport Mania 2: Wild Trips Game Customer Reviews
I loving this game! If you liked the first Airport Mania games, you should like this game too. Of course a buy for me. This game is GREAT - if you like time management games!

- by Eisteepfirsich
So much better then the first one. Different citys and planes, nicer grafics, Recommed.

- by Wildhartz
This is similar to the first Airport Mania, but there are other micro-mini games to accomplish while you're helping planes land, gas up and take off. It's like finding the Easter Eggs in the old Atari or early computer games -- you don't know what to look for until you inadvertently click on it, and after you DO click, you spend time trying to find more of them. Cute game. Still a PITA to get everything to win all the trophies (which is the downside to 99% of games where you can collect trophies), but worth buying.

- by ivillagegrinch
Related Games
If you like Airport Mania 2: Wild Trips game, you may also like...