Can You See What I See? Dream Machine
Help Curfuffle out of a pickle! in addicting Can You See What I See? Dream Machine Game
System Requirements
OS: Windows XP/Vista
CPU: 800 Mhz
RAM: 512 MB
DirectX: 7.0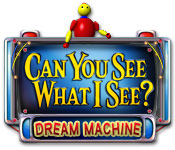 Can You See What I See? Dream Machine Game Description
Clyde Curfuffle's in a pickle again. This time he needs your help to find two rare items he's giving to his niece and nephew for their birthday. The trouble is he can't remember where he's put them. Use the dream machine to find clues, interpret dreams, and hopefully locate the missing items. Hurry, the birthday party is tomorrow, and Curfuffle can't go empty handed!
Can You See What I See? Dream Machine full version features include:
Unique mini-games
Cleverly hidden objects
Help Curfuffle out of a pickle!
Can You See What I See? Dream Machine Game Customer Reviews
his game truly is a cut above your typical hidden object game. The graphics are absolutely beautiful, and the images are well integrated into the larger pictures. The game proceeds through two parallel worlds- robot world and fairy tale land. This game is challenging and lengthy enough to be well worth the money. I highly recommend it!

- by lahochstetler
If you're looking for beautiful images, challenging mini-games, mind-bending riddles and great music, this is the game for you. At first, I thought it looked a little too young for me, but I downloaded it and found it very enjoyable. I learned a lot about dream symbols. And I ended up playing it with my kids (they helped me solve some of the riddles). All around, a great game with lots of different things to do - riddles, puzzles, and finding objects.

- by Pete Puma
I like this game. It is good for kids to learn new stuff and makes me feel good about my kids being on the computer to play. It feels like a puzzle that I cant figure out and I would like to keep trying to figure it out.

- by john stahl
Related Games
If you like Can You See What I See? Dream Machine game, you may also like...