Hidden Expedition: Everest
Race to the Roof of the World! in addicting Hidden Expedition: Everest Game
System Requirements
OS: Windows 2000, Windows XP, Windows Vista
Memory: 64 MB
CPU: P500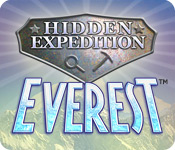 Hidden Expedition: Everest Game Description
Fresh from a successful exploration of the wreck of the Titanic, the Hidden Expedition Club will pit one of its stellar members against a formidable group of opponents in a race to the summit of Everest! Explore mysterious places as you find hidden clues in 30 different scenes from around the world. Expert Everest climber Ed Viesturs will assist you along the way as you unlock exclusive footage of the world's most dangerous summits. Race to the Roof of the World with Hidden Expedition: Everest!
Hidden Expedition: Everest full version features include:
Race To The Top!
30 Scenes From All Over The World!
4 Character Mini-Games!
Find Clues To Help Your Journey!
Hidden Expedition: Everest Game Customer Reviews
An interesting story about a Mount Everest climber, great pictures with objects that are well hidden and integrated! This is a well made hidden object game, and one can tell that there is a lot of work put down to make this a great game! Excellent work!! Nothing much more can be said, sound is OK, music I don't often listen to in these games, beacuse they tend to be somewhat repetitive, and I understand that it is hard to find enough music that don't take to much place in the games. In all: Great hidden object game, with excellent graphics, good gameplay and a interesting story! PERFECT!! A really high standard game!

- by ruthan
One of my favourite games. Im just replaying it for the xth time. Funny story, never getting in the way of HOG fun. Great, fun graphics. Subtly hidden objects to find. Nice music. Clever hint system, you can choose which item you want the hint for. And you can win extra hints by finding jewels in the scenes. Excellent game, one of a very good series.

- by origami-san
HE Everest is one of the few games I keep coming back to, with its great music, scenery and fun game play. I like HE Amazon quite a bit too, but some if its mini-games are too challenging to be relaxing, and I haven't found a way to skip them. Everest's seem just right...

- by Smidgeo
Related Games
If you like Hidden Expedition: Everest game, you may also like...