Cave Quest
Unravel the mystery of the Ghost King! in addicting Cave Quest Game
System Requirements
OS: Windows XP/Vista/8
CPU: 1.0 GHz
RAM: 512 MB
DirectX: 8.0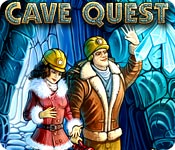 Cave Quest Game Description
The evil spirits that haunt the narrow trails of a mountain have been trapping travelers, and have captured your family! Trapped in a labyrinth of caves, it's up to you to go spelunking and save the people from certain doom! Unravel the mystery of the Ghost King and save your family in Cave Quest, a fast-paced and exciting Match 3 game!
Cave Quest full version features include:
Incredible gameplay
Exciting adventure
Stop the Ghost King!
Cave Quest Game Customer Reviews
The previous review pretty much covers it. I thought the graphics were delightful. Even the story line was pretty good. The game play is refreshingly different enough to provide a change. It isn't as fast moving as Jewel Match 3 or some others, but that is fine. It provides enough variety to keep my interest. Definitely a purchase for me.

- by DamaDeLuz
Yep, this Match-3 has alot going for it! Mechanics vary. In the 30 minutes I played, there were traditional swap match-3 or more anywhere you can. Goals I saw included collecting certain treasures or lowering items from bottom of board. There are also some boards where you travel along a set path, making matches to clear the way (as in Tibet Quest).
There are mini-quests to gather things for the Shaman. There are things to click for interaction. There is a map which you click to get to all of the different locations so navigation is very easy.
Choice of Timed or Relaxed. I think the graphics are really nice and very attractive. While there are objects to collect in quests, there are no "HOG scenes" like with feathers, plungers, rubber duckies, etc. It's more finding things in the natural environment.

Since there's a sale, this is a definite BUY.

- by Minnow
I LOVE this M3 game! Has everything you could wish for! Untimed option, variety of scenes inc HOG, interesting gameplay, map to navigate with, custom cursor flows smoothly and more interesting that many M3 games!

Edited to say that when I found you had to beat monsters to continue in the game, I found that extremely irritating. First two matches weren't that difficult, but after an hour of trying to beat it in the 3rd challenge I've given up on this game! It's like watching paint dry over and over again! Without this stupid challenge, I give the game 5 stars!

- by belamba
Related Games
If you like Cave Quest game, you may also like...