City of Fools
Run your own journalistic investigation of a UFO case! in addicting City of Fools Game
System Requirements
OS: Windows XP/Windows Vista/Windows 7/8
CPU: 1.0 GHz
RAM: 512 MB
DirectX: 8.0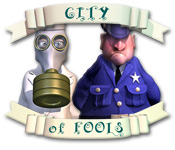 City of Fools Game Description
Play as a newspaper journalist and investigate the small town of Tundel where a UFO is rumored to have landed. The local mayor seems to be trying to cover up the event and it's your job to track him down and learn the truth. The way to the mayor will challenge your courage, selflessness and wit. Overcome all the incredible obstacles, find the mayor and become a hero in this charming adventure game!
Warning: City of Fools contains adult themes and is intended for mature audiences.
City of Fools full version features include:
Amusing animations
Original comic storyline
Discover the truth!
City of Fools Game Customer Reviews
An adventure game that goes on forever, crammed with stuff you don't know you need 'til you need it. The "adult" stuff has to do with a more or less running excrement joke--something I ordinarily find tiresome at best--which doesn't come up all that often and is perfectly bearable in the context when it does. There's a map that tells you where you are in relation to where you want to be, but there's no jumping to get there #although you can take the "subway" when you can find an entrance# and if you hate backtracking, you'll deeply hate this one. Still, I don't know when I've had more fun than when I played it...both times so far #bought it from the developer ages ago.#

- by nomoxxie
I loved this game! It is more of an adventure game than HO - although you do have to locate items for the characters in the game. I thought the humor throughout the game was great, too. The notebook and map keep you on track, but getting the hang of moving your character around the city can be frustrating from time to time. I finished this game in two days and now my son wants to play it (this is for more for teens and older as some of the language and characters are rather unsavory). If you like adventure games, give this one a try - you may be surprised at how much you enjoy it.

- by Punkie65
right, the game is really non linear, fun and addictive. Sometimes it's very challenging to remember all the details to keep going. But, overall this is a great example of relaxing and original hidden object games. Really glad to find such an app. Recommend to everyone, at least, give it a try.

- by Ebenezeer
I've accidently found the game and was pretty surprized at how good it's made. There are lots of quest, hidden object scenes and good humor. Nice visuals and sounds.

- by Archphoenix
Related Games
If you like City of Fools game, you may also like...