Adelantado Trilogy: Book Three
The epic conclusion of an amazing trilogy! in addicting Adelantado Trilogy: Book Three Game
System Requirements
OS: Windows XP/Windows Vista/Windows 7/Windows 8
CPU: 1.2 GHz
RAM: 1024 MB
DirectX: 9.0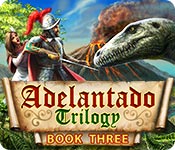 Adelantado Trilogy: Book Three Game Description
The story of Adelantado continues in Book Three - get ready for an epic conclusion of this amazing trilogy! Don Diego finds himself on top of the high cliff. There he comes across a stone that tells the story of these ancient and mysterious lands and its beautiful but dangerous inhabitants. Despite the risks that lay ahead the brave explorer has to push forward and finish his quest to find the lost expedition.
Adelantado Trilogy: Book Three full version features include:
Ten challenging levels
Mesmerizing locations and quests
Brand new story about the noble Adelantado
Try the original Adelantado Trilogy: Book One
Explore beautiful and magical ruin sites
Adelantado Trilogy: Book Three Game Customer Reviews
All good things must come to an end and I'm super thrilled with this game but also super bummed that this is the conclusion to the wonderful adventures of Adelantado. This is one of the best TM series out there and the graphics get better with each new edition. Plenty to keep you busy, cutting bushes, picking berries and mushrooms, picking up wood and gold and smashing pots that contain goodies. You even get to explore caves in this one! You have your typical quests such as building saw mills, worker housing and more, and you must build watch towers to expand your territories. You will also have side quest from the Indians asking help making potions, mending fences, totem poles and alters. You will find hidden caches of gemstones that give you strength, speed and the ability to understand and communicate with the native people. The thing I like the most about this chapter is all the dinosaurs roaming around. if you haven't played 1 and 2 it's okay, you can still play this as a stand alone game, but I suggest you try them all because they are really fun games, enjoy!

- by pennmom36
These are my favorite of all TM games and that is mostly all I play. It has it all, building, searching, thinking all within a reasonable time limit (if you don't get expert in all the level you cannot play the conclusion). I know this is called a trilogy, but I really hope it is not the end of the series. I highly recommend you tr;y this game if ;you love TM games.

- by mirkar
I am a huge fan of the Adelantado Trilogy and was so excited to see Book 3 finally released. I love these games. They are so much fun and each one has gotten better. I think the addition of dinosaurs in this one was one of my favorite parts. I now own all three books in this series and wish they didn't stop at a Trilogy. I would very much like to see a continuation of Adelantado's adventures. Happy Gaming!

- by 1fireangel
Related Games
If you like Adelantado Trilogy: Book Three game, you may also like...