Deadly Sin
Help Lorelai fulfill her destiny! in addicting Deadly Sin Game
System Requirements
OS: Windows 2000, Windows XP, Windows Vista
Processor: 3D openGL Video card 32MB VRam
Memory: 512 MB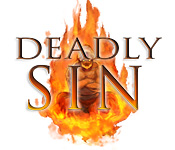 Deadly Sin Game Description
Take on the role of Lorelai, a young woman of humble means who learns that her true identity is the heir to a powerful empire! Her quest will take her around the land of Dondoran. On her journey, Lorelai recruits the help of a dashing, cunning thief, a skilled and famous imperial army officer, and others, as she seeks to unlock the secrets of her exile, destroy the seven deadly sins, and fulfill her destiny as the true princess!
Deadly Sin full version features include:
30 Hours of compelling gameplay!
Threat system allowing characters to draw or avoid attacks
Monster nodes: Turn random battles off when deactivated
Each of the five player characters have a deep and unique Skill Tree
Deadly Sin Game Customer Reviews
Ahhh, another RPG game. I love them. Been a fan since "Zelda" back in the Nintendo days of my "youth" ( I am 68)LOL. Anyway, I don't mind having to use the arrows to control action, although I prefer mouse action. I am having a time making sense out of where her progress is displayed. How many points does she have for upgrades? I just give it a try and see if I can get an upgrade. So far I have been playing for just over 30 min. and have only been wandering around collecting things and doing away with bugs and slime. I know from experience that is how you get experience points and goodies. Anyway, as the month is almost over, and I have some credits due me, I will probably buy next week. I noticed on Gamezebo there is a walkthrough in the making. I look forward to that, as I am sure this will be like Aveyond (which I love and have played all) and sometimes a gal just needs a nudge in the right direction. Good grief, didn't mean to run on. In short (too late) like the game will buy soon.

- by vonniefaye
Deadly Sin is a game for anyone willing to overlook the gameplay bugs. It's a game for the elite RPG fan. It's hard to recommend and hard to condemn. Try it, because truly, the game will be a coin toss.

- by Andrew Skaar
I liked this "old school" type of RPG. Sad that I have to wait until payday to buy but it will be definitely one I will invest in. I figured out how to skill level up, which IMO makes the game a lot more interesting. Not too happy with the random monster thing but can live with it. I do like using the arrow keys because I feel more in control with the keys as opposed to the mouse, however I can go either way. All in all I do like it.

- by poetforhim
Related Games
If you like Deadly Sin game, you may also like...