Death at Fairing Point: A Dana Knightstone Novel
Solve a 19th century murder! in addicting Death at Fairing Point: A Dana Knightstone Novel Game
System Requirements
OS: Windows XP/Vista
CPU: 800 Mhz
RAM: 512 MB
DirectX: 8.1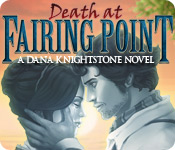 Death at Fairing Point: A Dana Knightstone Novel Game Description
Can you solve a 19th century murder? You are Dana Knightstone, an up-and-coming fiction novelist. While on vacation in Scotland, you are haunted by the ghost of David, a working-class painter in love with a rich heiress - until he was killed at Fairing Point! Uncover history as you travel across Europe to investigate David's mysterious death. Solve clever puzzles and follow the ghost's trail in Death at Fairing Point, a fun Hidden Object Puzzle Adventure game.
Death at Fairing Point: A Dana Knightstone Novel full version features include:
Game Screenshots
(click on Death at Fairing Point: A Dana Knightstone Novel game screenshots to zoom)
Death at Fairing Point: A Dana Knightstone Novel Game Customer Reviews
This game is one of the cleverest HOG/puzzle games I've played so far. I found the puzzles to be fairly standard but challenging and the items to be found fit in easily with the context for the story. (for the most part) The story itself is a throwback to the Golden Age of Mystery and Agatha Christie fans are sure to find this game a delight as the story unfolds during fairly lengthy game play. No content seems to be forced in and the music doesn't make me want to take a drill to my head so I deem it an all around great package.

- by SteveZissou
Excellent adventure game. If you after pure HOG then you probably won't enjoy as there is not too much HOG and more adventure and puzzles to solve. If I could give half points I'd knock it down slightly as some of the puzzles were a bit repetitive and quite simple to solve. However, overall I really enjoyed finding the clues and solving the puzzles.

- by aitchie
What a great game. I am so sick of trying to find 10 birds or whatever other useless, timewasting objects. This game actually has a continuity to it that I haven't seen before. It is actually logical. Love the game. More of the same type please.

- by maxforme
This was an excellent game. There is a ghost that people believed committed suicide, but he tells you he was murdered. So you have to find out what happened, with him giving you clues the entire way. The graphics are great, there is not much dialogue, but enough to give you an idea of what is going on. There is HO, some puzzles and a little going back and forth - not a lot. I would definitely suggest this game to others. This is one novel that I would love to see through.

- by Shalimar09
To quote tarbarme from another thread, "WOW"! While I can't comment on the whole package (just played about an hour), I know what I like, and I certainly like what I see! The BOOMZAP name pretty much guarantees a great offering! And no disappointment here!

I'd classify this game as an Adventure/Puzzle/IHOG, in that order. The game boots up rapidly (no "loading...loading...loading"), the opening menu has all the good options (inc. custom vs. system cursor choice--custom one does well), soundtrack is great, and the background music is gentle (imagine a mellow piano bar). The storyline is classic--girl writer + assignment to Scotland + ghost of guy named David (YAY) + investigate his death 100 years ago (possible romance plot here?). The game is heavy on puzzle-solving (jigsaw/tile rotate/tile swap) and inventory use but lean on hidden-object scenes. Graphics are immaculate, and scene-to-scene movement is really smooth.

Having not finished the game, I can't comment on length or the bonus material; according to other astute reviewers, the developer thought extra gameplay and an in-game strategy guide were more important than wallpapers and concept art--good thinking!

After a couple of real losers ("Tamara" and "Curse of the Ghost Ship"), BFG has given us some joy for the New Year!

- by elldee
Related Games
If you like Death at Fairing Point: A Dana Knightstone Novel game, you may also like...