Redrum: Time Lies
Capture the evil Dr. Sigmund Fraud! in addicting Redrum: Time Lies Game
System Requirements
OS: Windows XP/Vista
CPU: 600 Mhz
RAM: 128 MB
DirectX: 6.0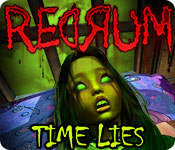 Redrum: Time Lies Game Description
The twisted and evil Dr. Sigmund Fraud has been released from the asylum, and is up to his old tricks. Help Detective Ravenwood track him down and end his terrible crimes in Redrum - Time Lies. Dive into this Hidden Object Puzzle Adventure game and free the souls of Dr. Fraud's victims from their nightmares. Explore eerie nightmares and put an end to Dr. Fraud's cruel experiments once and for all. Warning: Redrum - Time Lies is an intense psychological murder mystery intended for mature audiences.
Redrum: Time Lies full version features include:
Eerie gameplay
Spooky puzzles
Capture Dr. Fraud!
Redrum: Time Lies Game Customer Reviews
I never heard of the original, but when I received this as a download to try I thought it was interesting to try. Then after I downloaded it I immeadiatly thought it was going to be another corney attempt to be a creepy game when it was anything but. I considered dumping the game, but decided to go on for a bit and am I glad I did. This really is fun and fairly creepy (Really take heed about being possibly too scary for younger players). It is quite a bit different from most other seek games and I really like that a lot. There's nothing quite like playing in a dark room with the sound turned up a little and a tingle going down your spine while trying to find your way around....Now that's gaming....

- by Cizzarries
After playing 45 minutes of the demo I bought this game. MUCH better than the first one. My favorite kind of game where besides **** and puzzles, you have to find objects in one room and figure out where to use them in other rooms. WARNING: this game is not for the squeamish! Storyline, graphics and music are great but very scary.

- by pungstress
I loved this game! The malevolent Dr. Fraud, from the first game, has been released from prison and Rose and her detective uncle must free the souls of the doctor's victims and try to recapture him. As with the first game, the music and graphics are excellent at conveying the dark and grim atmosphere. In the game, you return to the abandoned asylum and search various rooms to look for and set free the souls of the doctor's victims.

Areas of interest sparkle, giving you clues where or what to look for. The rooms where the souls are trapped are locked and you will need to find and match the keys to open them, either skulls or clock faces set at certain times. You have a raven/crow, that flutters through some of the scenes, who will give you inventory items you will use in your quests. You start off with five hints and as you use them, you can get more by keeping your eye out for a magnifying glass in some of the completed scenes.

There is a map that shows you where you are in the asylum and lets you jump from one section to another, instead of constantly backtracking. In Dr. Fraud's office, there is a diary you can check for additional clues. In addition to the HOG portions of the game, there are jigsaw puzzles, sliders, the hexagon puzzle from the last game (but updated gameplay), some of which can be skipped.

I played the demo and bought it immediately after. If you enjoyed the first game, this installment will not disappoint. If you are not into dark and gruesome stories and games, pass this one by.

- by molly539
Related Games
If you like Redrum: Time Lies game, you may also like...