Delicious: Emily's True Love
Share in Emily's search for true happiness! in addicting Delicious: Emily's True Love Game
System Requirements
OS: Windows XP/Windows Vista/Windows 7/Windows 8
CPU: 3.0 GHz
RAM: 512 MB
DirectX: 9.0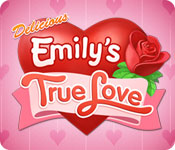 Delicious: Emily's True Love Game Description
Share in Emily's search for true happiness with Delicious - Emily's True Love, a wonderfully romantic chapter in the amazing series! A year after Emily opens her own restaurant, business continues to boom though her personal life is completely non-existent. Shades of promise appear when she receives a rose, but she is too shy to act on it. Then one day an old love letter from a summer romance arrives that turns Emily's world upside down. Will she act upon either of these to find her true love. Follow Emily on this all-new romantic journey! Work your way through Emily's Place and all the way to Paris helping customers and learning more about the one that got away. Complete clever games, slink your way through awkward situations and meet fantastic new friends around the world. With exhilarating tasks, endearing surprises, rewarding trophies and fabulous upgrades, Delicious: Emily's True Love is destined to become your favorite!
Delicious: Emily's True Love full version features include:
Complete all-new wonderful games
Celebrate the romance of a lifetime!
Uncover endearing surprises of Emily's life
Earn rewarding trophies!
Delicious: Emily's True Love Game Customer Reviews
I can't stop playing! It is so Delicious! The Delicious series just keeps getting better and better. This one is about Emily finally finding her true love or has she? What is so different about this game compared to any other is the story and the characters,. It is also about the fun in between tasks that you have to finish during the time you mind the restaurants. If this is your first time playing the Delicious games you have to play the other ones. The replay value is so much fun too because you want to get those gold stars, trophies and extra money to upgrade your restaurants. Download this game right now, you will not be disappointed.

- by twopandas
As with all Emily's games this one does not disappoint. There is a cute story line and the time management game itself is not too challenging. Buy upgrades as you go to help improve tips and the menu increases with each level. Pretty easy to get top score each time. Really good game to add to the collection.

- by Kc
This game is: Original, Good Replay, Involved, Good Value, Kid Friendly, Addictive.

I LOVE the Emily games, and this was pretty par for the course, but I really missed being able to respond to questions and make choices about who I want to be with in the end. I was also a little disappointed in the bonus boards because in Emily's childhood bonus boards, the story continued. In this one it went back to the beginning of the story to show what we didn't see. Either way, it's still a 5 star game. I guess I just would have given Emily's Christmas and Childhood 5+. Worth the fun ticket or money, for sure.

- by Susan19514
Fans of Emily of "Delicious" fame and her delightful exploits in time management are in for a new treat. Her new customers, as well as, some old favorites, are a humorous treat depicting our various shapes and sizes. This is jam-packed with new food items to create and greatly varying restaurant locations. Although a game of skill, the story line and characters, especially Emily, leave the player with a "feel-good" mood whether you won or not. For a good time and some challenges this game is up there with the best of "Delicious." A great game to get you in the Christmas spirit is "Delicious - Emily's Holiday Season." This "True Love" premium edition has the usual quirky added activities and a bonus 10 days if you watch the credits. If you get addicted to this charming game, "Delicious - Emily's Tea Garden" is the most challenging in the last restaurant, of course, the Tea Garden. If you like time management games that don't make you want to pull your hair out...this is ideal.

- by happynanny
Related Games
If you like Delicious: Emily's True Love game, you may also like...