Dream Chronicles: The Chosen Child
Help Faye save her memories and family! in addicting Dream Chronicles: The Chosen Child Game
System Requirements
Windows XP/Vista
256 MB RAM
70 MB available hard drive space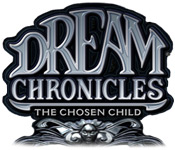 Dream Chronicles: The Chosen Child Game Description
Unlock the secrets of the mysterious fairy realm in the third installment of the award-winning Dream Chronicles series, Dream Chronicles: The Chosen Child. Discover hidden clues and challenging puzzles as you join Faye on her quest to save her daughter from the clutches of Lilith and reveal the secret prophecy of The Chosen Child in this all-new hidden object adventure with unexpected twists.
Dream Chronicles: The Chosen Child full version features include:
Enchanting Art-Nouveau style backgrounds in higher resolution with 60% more detail
New multi-scene puzzles that will have you searching throughout the Dream Realm via the Nexus
Spectacular new dream jewels to create, collect and use
Dream Chronicles: The Chosen Child Game Customer Reviews
just got thru playing dream chronicles the chosen child over in play first. It is a beautiful game no bugs and everything is working fine. graphics are really great. I plan 2 buy after my 30 minutes are up, for vista users that is what I am using.

- by lauder
This game is full of wonder and mystery. The beautiful graphics and relaxing music flows endlessly thoughout the game. The puzzles are not too hard but not too easy. Unlike the first installment of Dream Chronicles you can go back and find the missing dream pieces before you finish the game. It is a challenging game that took a quite a few hours to complete, and although I have completed it I still need to play it again to find all of the dream pieces and gain the rank of Master Fairy....

- by mumma_1
Related Games
If you like Dream Chronicles: The Chosen Child game, you may also like...