Women's Murder Club: Twice in a Blue Moon
Find the clues before it's too late! in addicting Women's Murder Club: Twice in a Blue Moon Game
System Requirements
OS: Windows XP/Vista
CPU: 1.0 GHz
RAM: 512 MB
DirectX: 9.0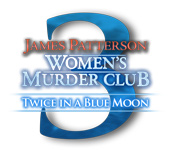 Women's Murder Club: Twice in a Blue Moon Game Description
On a violent night in the murky streets of San Francisco, a cryptic message becomes key to unraveling a gruesome investigation. Leading police on an intense chase, there is little time to stop a killer before he strikes again in Women's Murder Club: Twice in a Blue Moon! Unravel a murderer's tribute to the past by uncovering clues, gathering facts and revealing his identity before it's too late. Immerse yourself in this thrilling Hidden Object game!
Women's Murder Club: Twice in a Blue Moon full version features include:
Complex crime scenes
Dark & gritty story
Stop the killer!
Women's Murder Club: Twice in a Blue Moon Game Customer Reviews
i'm a big fan of these games and i'm deffinately planning on buying this. what i like about this one is the titles they have for each investigation. i also like the talking part they had in the beginning and i hope theres more of that because its better than actually reading the story line. overall it's already addicting and it's worth buying. in my opinion i think thats its different in its own way compared to the other two games. i very much love the jack the ripper concept. what i particulary like the most is the envelopes you get from the killer with clues inside each one and how you highlight until you get the right street and when you go there you find a body. i thought that was pretty cool. thumbs up to this game!

- by miseryxx
thsi game is great and i loveeed it not only because i am a women and im aspiring a career in the field it is just a game you would never forget and its soo exciting the only down side is that you have to buy it which makes sense but it is was free i would be on it at work alll day long love it i strongly recommend you try it and that the character dont speak as much i think the charaters should talk throughout the whole game. the free trail is great trrry it

- by delrosariojeanette
The girls of WMC are back! I enjoyed this game better than the second one, but not as well as the first one. This game was more like the original than the second one was. I liked the story, the characters and the little mini-games

- by cme550
Related Games
If you like Women's Murder Club: Twice in a Blue Moon game, you may also like...