Dream Chronicles
The line between reality and fantasy fades in the Dream Chronicles! in addicting Dream Chronicles Game
System Requirements
OS: Windows 2000/XP/Vista
Memory: 128 MB
DirectX: 7.0 or later
CPU: P3 700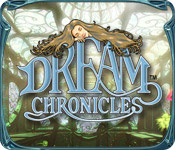 Dream Chronicles Game Description
Imagine waking to find your husband missing and your daughter and the entire town under a sleeping spell. Your surroundings seem strangely surreal and otherworldly and there are puzzles and clues scattered throughout town like breadcrumbs. Find all the clues and you'll discover what happened to your family and friends, and you'll learn about your husband's mysterious past. But, if you are unsuccessful, this strange new world may remain as it is. Then again, what if it is all just a dream?
Dream Chronicles full version features include:
Explore 18 Environments!
115 Dream Pieces To Discover!
Many Puzzles To Solve!
Stunning Artwork And Styles!
Dream Chronicles Game Customer Reviews
I really love the game, because there is a lot of adventure and because I can make the time go by with it

- by heidi maria johansen
This is such a great game! It's a point click game where you need to find objects and resolve problems. Nice graphics and story. It is relaxing because there is no timer and it is a fairly easy game. Just too short :(

- by dnj51
Dream Chronicles is not just fun but it also makes you put your grey cells to test. it is a game of logic and understanding, thinking and adventure. a must play for all age-groups. It leaves you wanting more.

- by Avani Dalal
Related Games
If you like Dream Chronicles game, you may also like...