Magic Encyclopedia
Embark on a journey of magic and wonder! in addicting Magic Encyclopedia Game
System Requirements
OS: Windows XP/Vista
CPU: 600 Mhz
RAM: 256 MB
DirectX: 7.0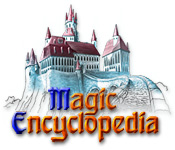 Magic Encyclopedia Game Description
Magic Encyclopedia: First Story takes you on a journey of magic and wonder as you guide a young lady on a quest to find her brother and stop the manifestation of a terrible evil. As you search beautiful hand-painted scenes for hidden objects, solve cunning puzzles and enjoy delightful mini-games, you'll move ever closer to the startling discovery at the end of the journey. Hours of relaxing gameplay that will stimulate your mind and enchant your spirit lie ahead!
Magic Encyclopedia full version features include:
Over 25 levels of mind-bending adventure
Hundreds of objects to locate and use
More than two dozen mini-games
Seek and find adventure
Magic Encyclopedia Game Customer Reviews
A really different seek and find game as it is combined with lots of puzzles. I liked the "extra hints". You can get, as many as you can find. Though the extra hints aren't too easy to get. One suggestion would be a scoring or timed score board. This would give the game better re-pay value. All in all, the game is a fun one that makes you think. Loved it.

- by diza11
its almost identical to mortimer becket and i loved that one this one is great there is more to do than on mortimer becket and a little bit more of a challenge the graphics and sound is great keep the great games coming

- by SusanAnn
We loved this game. We like "task oriented" puzzlers and this fit the bill. The puzzles were challanging and fun. My 6.5 year old loved it. He beat it in 4 days. Can't wait for ME2 to come out.

- by Chad M. Wilson
Related Games
If you like Magic Encyclopedia game, you may also like...