Echoes of Sorrow
Listen to the Echoes of Sorrow! in addicting Echoes of Sorrow Game
System Requirements
OS: Windows XP/Vista
CPU: 1.6 GHz
RAM: 1024 MB
DirectX: 9.0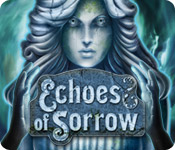 Echoes of Sorrow Game Description
Listen to the Echoes of Sorrow and remember who you are as you explore your memories in this fun Hidden Object game! While being chased by a dark shadow, you trip and hit your head. Because of this amnesia, you must go through your past and relive your memories. Travel through time and stop the dark shadow that is still after you!
Echoes of Sorrow full version features include:
Reveal the dark secrets of a heartbreaking past in this Hidden Object search.
Relive memories from a childhood home, a college dorm, and other meaningful places.
Find valuable information, solve tantalizing puzzles, and play distinct mini-games.
This game is intended for mature audiences.
Echoes of Sorrow Game Customer Reviews
Great game liked the fact that you can change your cursor (always a plus for me - devs please note thank you!)

Good story line and the graphics/music are of a high quality. Have more or less finished the college story soooo methinks this is at least 3 hours long maybe more which in my book for a SE is ding ding a BUY for me!!!! this will take me to a punch card credit so a win win situation.

Yes it is a bit creepy but hey after puppets and clowns I'm creeped out already definitley 4 out of 5.

- by maddee51
For me the game took off a bit slow but hang in there, it gets better. It is slow to change scenes or chapters but pay attention because it gives a clue while it is loading. The objects are fairly easy to find in the nice clear graphics, the artwork is excellent. The puzzles are not difficult but it does have a skip feature if you get tired of trying to figure it out. I usually turn music way down because after a while it annoys me but this music is pretty good and not over powering. The storyline has a decent plot and once you get into it you'll want to keep going. I also liked that the developers didn't have you hiking all over creation. All in all, it is an interesting, challenging, well put together game.

- by mavethrave
The gameplay in Echoes of Sorrow is pretty standard. Collecting pieces of objects (pieces of a photo, slides for a projector), a small number of mini puzzles (for the most part not that difficult) and of course, hidden object scenes. The HO scenes were the most enjoyable to me, but a couple of the puzzles, one involving figuring out an evidence timeline, were interesting, too. There was also a puzzle where you have to pose some statues which was something new.

The more unique part of the game was the artwork, which kind of looks like Thomas Kinkade on an evil streak, and I mean that in a good way. I liked the way the ghost figures were drawn, too.

The plot involves a woman who is injured and falls into an apparent coma while being chased by an unknown shadowy figure. While in this state she enters a plaza where she encounters a statue in chains that represents several repressed memories that she needs to recover by visiting the four locations surrounding the statue. When this is accomplished she can finally identify and confront her assailant.

I give the game a higher rating than I might have based on the fact that the plotline was a little off the beaten track for a HOG. I would also recommend this game to people who don't like too much running around to various locations over and over again to look for needed objects.

- by PCCnyc
A must for any HOG player! Loved the storyline from the beginning all the way to the ending. The graphics were not " cheesy " but are of the highest quality in color and clarity. Moved easily from scene to scene , but still just enough of a challenge to keep ones interest. Would love to see a sequel , " Echos of Sorrow 2 ". But the first will be hard to follow with a #2. I have played many HOGames and would venture to say this is one of my favorites for the reasons previously stated.

- by lovegames000
SUPER game! You are chased by a dark shadow and hit your head. While unconcious you must relive your past and deiscover the identity of your chaser. Great story, beautiful graphics, challenging but not frustrating play, no technical issues. This is an Adventure/HOG game. Lots of traveling and puzzles to solve. Very well sone and definitely worth a try for HOG/Adventure lovers.

- by dejadina
Related Games
If you like Echoes of Sorrow game, you may also like...