Enigmatis: The Ghosts of Maple Creek
Solve the mystery of Maple Creek! in addicting Enigmatis: The Ghosts of Maple Creek Game
System Requirements
OS: Windows XP/Vista
CPU: 1.0 GHz
RAM: 512 MB
DirectX: 9.0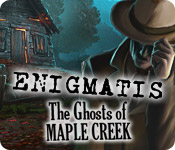 Enigmatis: The Ghosts of Maple Creek Game Description
Find a kidnapped teenage girl and save yourself in Enigmatis: The Ghosts of Maple Creek, a fun Hidden Object Puzzle Adventure game! After waking up in a tiny town in the middle of nowhere, you must piece together your memories and figure out why you ended up in Maple Creek. Discover the ancient evil that lurks in the seemingly peaceful lands of Vermont and learn the truth in this thrilling detective story!
Enigmatis: The Ghosts of Maple Creek full version features include:
Enigmatis: The Ghosts of Maple Creek Game Customer Reviews
Excellent, scary, interactive, suspensful and just awesome. You will move around a lot so be prepaired to be a little confused. As you collect your objects you will find the missing people and be able to talk with them and find out where the missing girl is. I got lost sometimes but if you use the hint button it will tell you where to go and then you still are able to use that hint. Very good game. Keeps you interested to the end. A must purchase for sure.

- by lookforit
Just finished this game and it is a WOW! It actually had me anxious a couple of times as I play in the dark in the middle of the night usually. I had to close it a couple of times and take a breather (Flower Paradise....help!). The music is spot on creepy and what's really strange is I thought I heard the 'Bell' a few times....after it was destroyed! Anyone else? Or am I the only crazy one hearing things not there. Was a bit disappointed in the ending...but obviously setting up a sequel, guess they knew it would be a huge hit, even though this isn't their genre, great story, good detective work, detective! Oh, that's me! :)

ps: One negative....30 years Hamilton hangs around, come on....3 years might have been believable! Definite buy, if you can handle demonic themes!

- by dianenjojo
The game is simply FANTASTIC, it will definitely be one of my Top 10 best game of 2011! Bought the CE version and enjoyed every second of it.... Don't know why the game can't reach even Top 3 of BFG Top 100 chart cuz it should really be, hope this SE version will create a big boom!

Graphics are wonderful, very well drawn (or whatever) - some scenes are very beautiful too. They're clear and detailed! Voice overs are great, loved the puzzles and the atmosphere is really creepy. Story is really interesting and really intense, music is also excellent! I loved the addition of Evidence Wall that help you arrange and manage evidences you collected, i really feel like i'm part of the game, really into it! There're tons of locations to explore and i can finished the main game in around 4-5 hours which is quite decent because I'm fast player! HOG scenes are the only downside in this game, there're more and more toward the end and some objects are too tiny but not impossible to find. Anyway, i loved this game very very much and will recommend everybody to try it!

- by TeamSD
Just before playing this game's demo, I played two others, one for 30 minutes and the other for 5 minutes and knew I didn't want either game. Wasn't hoping for much when I started playing this one, but WOW, I was hooked from the very beginning.

The other reviewers give great detail which I won't repeat, but they are dead on. Some of the scenes had me almost out of my chair. Love it and a definite buy for me. Thank you game developers, Artifex Mundi. I was getting worried that I wouldn't find anything great. I did.

- by beachsidelynn
Related Games
If you like Enigmatis: The Ghosts of Maple Creek game, you may also like...