Eets
Play through beautiful, whimsical worlds in this award-winning strategic puzzler! in addicting Eets Game
System Requirements
OS: Windows 2000/XP/VISTA
Memory: 128 MB
DirectX: 8.1 or later
CPU: P3 500
Video: 32MB Video Card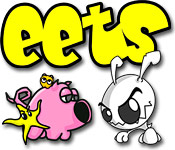 Eets Game Description
Hunger. It's emotional! Dig into one amazing strategy game where the player manipulates Eets' emotions and behaviors through the use of food and other props to solve a puzzle. Use prankster whales, exploding superpigs, angry marshmallows and other amazing items to help guide Eets to safety and find his role in a wacky world where nonsense is the rule! With over 100 levels, trophies to win, and a slew of glowing reviews and awards, Eets is a sure-fire crowd pleaser!
Eets full version features include:
Over 100 Puzzles To Experience!
Tons Of Wacky Characters To Discover!
Travel To 4 Different Exotic Locales!
Create And Share Your Own Puzzles!
Eets Game Customer Reviews
If you have a liking to little cute creatures, or if you are a puzzle fanatic, Eets is the game for you....This engaging puzzler has all the elements of a great game. Rather than wasting your time playing games with no helpful purpose, you could be literally spending hours at a time solving the puzzling world of the Eets.

- by xgryphon
...I found the game personally to be very addictive and stylish. Most games these days follow a mold and lack originality while Eets returns to the playful and (gasp) FUN aspects of gaming, giving great feel to the game without doing special effects just for the sake of it. Personally, I find it's just challenging enough to play without getting frustrated but I also sometimes try to finish levels without using all the pieces to make it more challenging. All in all, a great deal for a quality game.

- by Esternest
Eets is a wacky fun game. I mean come on, exploding superpigs and angry marshmallows! The guys who made Eets had a quirky sense of humor. With tons of enemies and over 100 puzzles, throw in some cute graphics and you've got one great game!!!

- by Bob S
Related Games
If you like Eets game, you may also like...