Rooms: The Main Building
Collect items to see the bigger picture. in addicting Rooms: The Main Building Game
System Requirements
OS: Windows XP/Vista/7/8
CPU: 1.0 GHz
RAM: 256 MB
DirectX: 7.0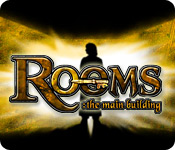 Rooms: The Main Building Game Description
Discover a 1930s throwback upon your arrival to Rooms, complete with city streets and a surreal Mansion. Bored with old puzzles, you're given a new type of sliding puzzle as a birthday gift. Your goal is to reach the exit before it closes on each level and retrieve the four puzzle pieces. Are you wise enough to use the right object at exactly the right time? Mr. Book is the Rooms steward and your personal guide to escape the maze in Rooms: The Main Building.
Rooms: The Main Building full version features include:
Sliding Puzzle game
Attractive levels
Collect items to reveal the picture
Get help at our Forums
Rooms: The Main Building Game Customer Reviews
This is a terrific puzzle game. I found the instructions for each new feature quite straightforward. Players are strongly advised to play in full-screen mode, the details are difficult to see otherwise. The point-and-click adventure portions are indeed a bit odd, but help break up the pacing a bit. Perhaps the strangest thing about the game is its subtitle, since there is more than one building featured. I assume sequels are in the offing.

- by mkinyon
Thanks so much for not giving us another match 3 or search and find game. What a refreshing change. It makes ya think and uses a whole different part of your brain. I love it!

- by lstockdale
An absolute masterpiece, if you can get past the quirks. Can be played casually by moving the blocks around to get to the exit any way that you can, or it in a more hardcore manner by playing at the Gold level. For the most challenge, attempt to get all the trophies in the game by completing the "Challenge Levels" and creating at least 10 rooms of your own, using the built-in user tools. Loads of replayability and well worth the money!

- by LindaS
Related Games
If you like Rooms: The Main Building game, you may also like...