Elements
Swap and match nature's greatest elements! in addicting Elements Game
System Requirements
OS: Windows 2000/XP/Vista/7/8
Memory: 256 MB
DirectX: 8.1 or later
CPU: 800 Mhz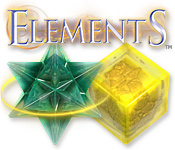 Elements Game Description
Harness the power of nature's greatest forces in Elements, a challenging and addictive swap-and-match game! In this enchanting puzzler, match the given elements to distill their powers and obtain new components that will lead you to the Elixir of Life. Match elements of like sizes to build chains and combos for bonus points. Follow the clues in the Book of Elements to bring Air, Fire, Water and Earth down to their purest forms, on your way to becoming an expert alchemist!
Elements full version features include:
Challenging Swap And Match Puzzles!
More Than 50 Stunning Levels!
Engrossing Leonardo Da Vinci Mystery!
Play Classic, Timed Or Relaxed Mode!
Elements Game Customer Reviews
I found this game quite intriguing to play. It can be easy or challeging depending on how you choose to play,I am trying to end up with just one element on the board which I have not been able to achieve.

- by fredsarrow
The basic mechanic of this game is to match elements of the same size to fuse them into larger elements. There's little indicators on the bottom of the screen showing you how many matches of each elements you need to finish the level....What I loved about this game is that it is easy enough for small children to win, but is deep and challenging enough for me to master with strategy.

- by sage042
This game was perhaps one of the best games I've ever played for taking my mind off of reality. The object is to combine the like elements, but what's more, is to actually win, you not merely have to think outside the box... You have to think practically outside of time. You have to be able to anticipate your next moves in order to get an expert level. However, if you aren't trying to get an expert level, you can still have fun, just deciding what to do next. A game definitely for the teens or older, though a child could probably still have fun matching the shapes.

- by chaos635
Related Games
If you like Elements game, you may also like...