Emerald Tale
Save the princess from a savage dragon. in addicting Emerald Tale Game
System Requirements
OS: Windows 2000/XP/VISTA/7/8
CPU: 600MHz or faster Processor
RAM: 128 MB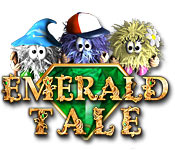 Emerald Tale Game Description
Solve puzzles and break runes to find magic artifacts and rescue the princess from a ferocious dragon. Find a variety of enchanted items and artifacts with their own helpful abilities and mysterious stories. With over 110 mysterious levels and a simple game play mechanic, Emerald Tale is both addicting and fun.
Emerald Tale full version features include:
Over 110 mysterious levels.
Great power ups!
Fun and familiar game play.
Discover Enchanted Items!
Ancient relics and treasures
Emerald Tale Game Customer Reviews
This is one of my Top 10 casual games of all time. The sound effects are amazing - usually I turn them off and listen to my XM satellite radio, but sometimes I play a level or 2 of this game so I can relax. The shattering sound of the tiles is amazing. You will enjoy this game - it's so much more than 'Match 3'. Give it a try!

- by SeattleJen
I thought the match 3 game was played out.. Too many...not challenging enough... I mean really.. Bejeweled is perfection, what else could there possibly be? There is Emerald Tale.

Simply put, the graphics are beautiful. Yes I said beautiful, stunning, glorious and brilliant. Every one of those would work. The detail is wonderful, the colors are vibrant and realistic. ...The sound is fabulous....The gameplay is what I like to call simply complex....Overall the game is perfect. The story line is cute and child-like, but not geared only to children. The look of the game is great, the play of the game is addicting. Perfection.

- by motherofteresa
This game is TOTALLY AWESOME. There is a good story line and engaging characters. The puzzle play becomes more challenging as you go along, but you never feel overwhelmed by time limits. It is so addictive that I played the whole trial hour in one sitting. I could not wait to buy it. I would recommend it for everyone. It is so much fun.

- by annfensom
nstead of the usual match stones and win scenario, you have to match runes, break up the scenery to found the hidden jewel and coins on each level, find the power-ups, and move the character through the unmatch runes to the the next portal so it becomes a maze as well. Each level gets a little tougher and some have more than one solution which takes you different direction on the map. You talk to other characters who give you clues to help you to the next level. I really enjoy this game and would recommend it to other players!

- by Dragonlady425
Related Games
If you like Emerald Tale game, you may also like...